A lot is riding on Alpine's Baku F1 upgrade plan
Alpine will introduce its first significant upgrade of the 2023 Formula 1 season at the Azerbaijan Grand Prix, which chief technical officer Pat Fry describes as a "reasonable step".
Alpine's in-season upgrades so far this year have been modest, with a reduced-drag beam wing used in Jeddah and a new vane added to the halo fairing in Australia.
However, while the vane in Australia was a small part, Fry said "it does actually have a reasonable effect on the rear of the car". But there will be a more comprehensive package for Baku.
"As last year, we've got a reasonable upgrade plan running," said Fry.
"We should have a reasonable step for Baku and then more coming through, so at race four and race six [Imola] there should be some reasonable steps coming."
Going into the 2023 season, team principal Otmar Szafnauer declared that to close from last year's fourth place and join the established top three, Alpine would effectively have to out-develop everyone else on the grid.
"Looking towards the future, the gap to third was big. We've got to close that gap," he said at the time.
"But in order to do so, we must develop at a higher rate than any other Formula 1 team out there. Which isn't easy to do.
"Even the top three, for us to catch them that means our development rate is higher.
"And that's what we're looking to do and that's what this A523 will hopefully do for all of us."
Szafnauer could at least be optimistic about his team's chances of achieving that, though, given that in 2022 Alpine had one of the best rates of any team for not just bringing new developments to the track, but them actually working as intended when they made their debuts.
According to Fry, Alpine has worked hard to bring forward the manufacture of upgrades to make it possible to introduce them earlier – although it's not clear whether the crash suffered by both cars in the Australian Grand Prix will have impacted that ambition.
Alpine has had the quickest car in the midfield this season, although it has struggled to convert that into results. Fry estimates that Alpine needs to find another four-to-five tenths of a second to get a firm foothold in the battle behind Red Bull.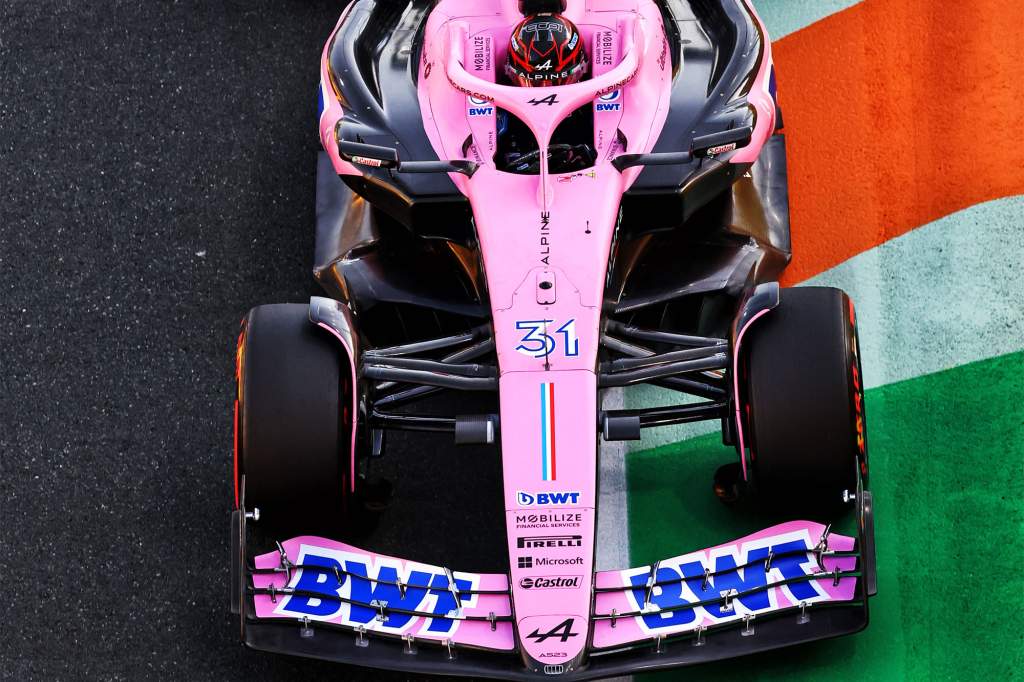 "Personally, I'm never satisfied," said Fry when asked by The Race if he's happy with Alpine's performance level. "We're here to be moving forward and we need to keep on working.
"It's good to see what's coming out the factory from the windtunnel and some of the other developments we've got going on. We're on average, four or five tenths [off] in qualifying that we need to find, not to catch Red Bull but to catch the others, which is all within our grasp. We've just got outdevelop them."
The team has yet to fully understand the behaviour of its car, which Fry puts down to the process of learning about the substantial design changes made to the rear suspension with the switch to a pushrod design.
Pierre Gasly, in particular, has said he's still getting on top of the car after his switch to the team from AlphaTauri, meaning there's also more to come from him.
"We're learning about a car all the time," said Fry. "There's some reasonable mechanical changes that we've made for this year that we're still learning. We've got a bigger set of tools in the toolbox that we can use to set the car up.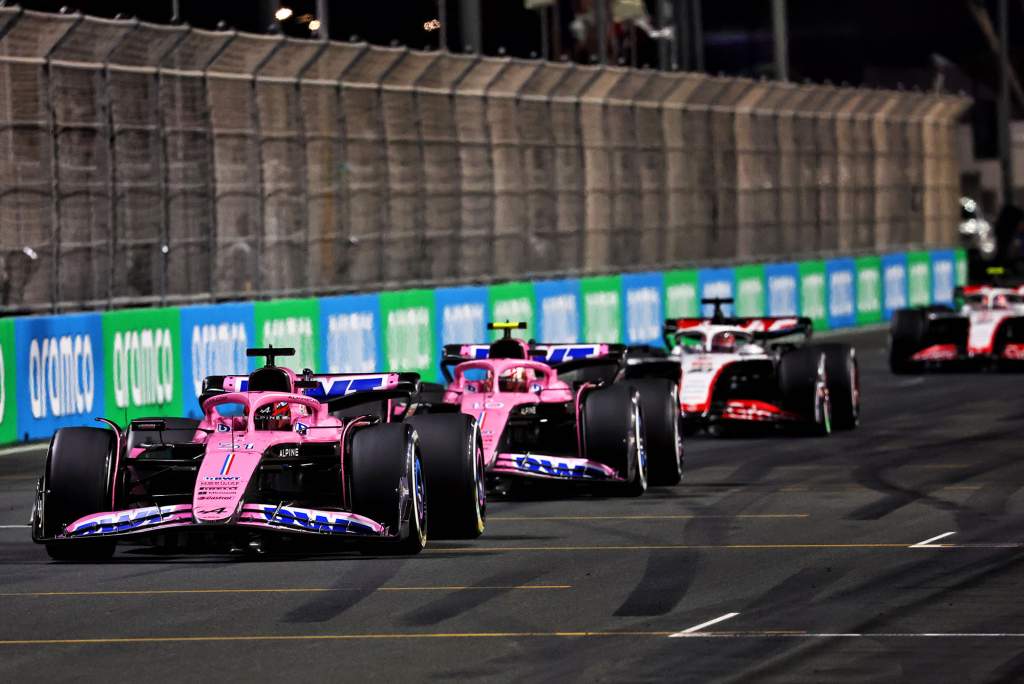 "But the three tracks we've come to are all quite different. You've got a high-speed and reasonably bumpy [one] in Bahrain, where we had a certain set of problems. Jeddah was a lot smoother but again high speed.
"If anything, I guess [Melbourne] is a bit, in terms of speed of corner and how smooth it is, like Jeddah, but then you've got the tyre warm-up issues."
Alpine's results so far this season have been limited to minor points finishes, with the best result Esteban Ocon's eighth place in Saudi Arabia. But it was on the brink of a fifth place in Australia with Gasly prior to the final standing restart.
Speaking after the race, Szafnauer revealed that Gasly was upbeat about the performance of the car despite the disastrous ending to the race when he and Ocon clashed.
This was much stronger than the race pace shown at the Jeddah Corniche circuit, where Alpine's deficit to the leaders appeared bigger.
"Although he wasn't happy because he was so close to a fifth place, he was more pleased with the fact that he could race genuinely up at that level," said Szfanuaer.
"We have 20 races left, let's bring the upgrades and [see] if we can have the same pace and race amongst the top five cars. This year, if you're racing for fourth you're racing for second, it's that close.
"So he wasn't angry, he wasn't upset, he was more positive that the pace was there."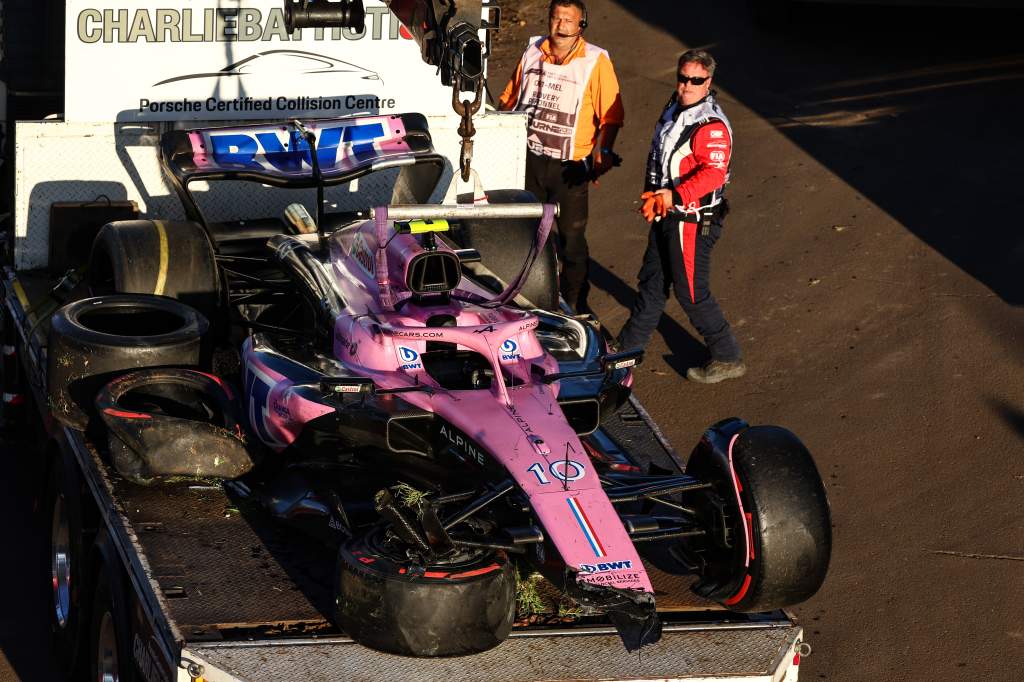 Now it's down to Alpine to prove it can both make good on that pace with better results, and improve on it with upgrades.
With the gap in the calendar after the initial run of three races, all teams are expected to bring some kind of upgrade to Azerbaijan. The one brought by McLaren, which holds fifth in the constructors' championship after its double-points finish in Australia, is likely to be among the most significant with a major change in floor philosophy it hopes will transform its season after a difficult start.