Binder: MotoGP stewarding dissuaded me from Bagnaia attack
KTM MotoGP rider Brad Binder says he was dissuaded from launching a late lunge on Pecco Bagnaia for the Spanish Grand Prix win by current racing rules and how they're applied by the FIM stewards.
Binder fought reigning champion Bagnaia for the win at Jerez and was eyeing up a last-ditch attempt to outfox the Ducati man at the final corner, Curva Jorge Lorenzo.
However, with Bagnaia coming through the preceding fast right-hander Curva Ferrari with a lead of a couple of bike lengths, no Binder divebomb followed into the sweeping left-hander, allowing Bagnaia to come through as the winner.
It marked the conclusion of a weekend during which the FIM stewards issued long-lap penalties to first Yamaha's Franco Morbidelli and then his team-mate Fabio Quartararo for their respective roles in the collisions that led to red flags on Saturday and Sunday. Those sanctions drew a mixed reaction, as did the Sunday order for Bagnaia to give a position back to Jack Miller after aggressively sliding up down his inside at the Dani Pedrosa corner.
Binder acknowledged after the race that Bagnaia had been "perfect" through the penultimate corner and in positioning to strike to deny him a chance to strike, and that a lunge "could probably end in disaster".
"If I'd sent it, I'd have wiped us both out"

The podium trio react to the key bits of the race, including Tardozzi's celebration! #SpanishGP pic.twitter.com/g7vy3uPlXL

— MotoGP (@MotoGP) May 1, 2023
Yet after the post-race test on Monday he also insisted that the current stewarding standards contributed to his decision to play it safe.
"Nowadays if you collect someone in the last corner, might not be you lose one position. Probably won't be losing [just] one position," he said.
"Nowadays racing isn't how it used to be. It's the reality, you get penalties if you make mistakes and hit people. Takes a bit of fun out of it but I suppose makes it safer."
Asked by The Race whether that was on his mind while following Bagnaia into the final corner, he said: "Definitely. I am not a guy that likes to leave anything on the table. I felt like I was almost close enough but I wasn't. So it would've been one of those 'roll the dice and see what happens' moments.
"But the thing is, with the way things are nowadays, it just wouldn't be in your benefit… well, I mean, it might work, it might work out fine. But there's a very good chance you might have a bit of contact.
"That position you might gain would probably just get taken away anyway."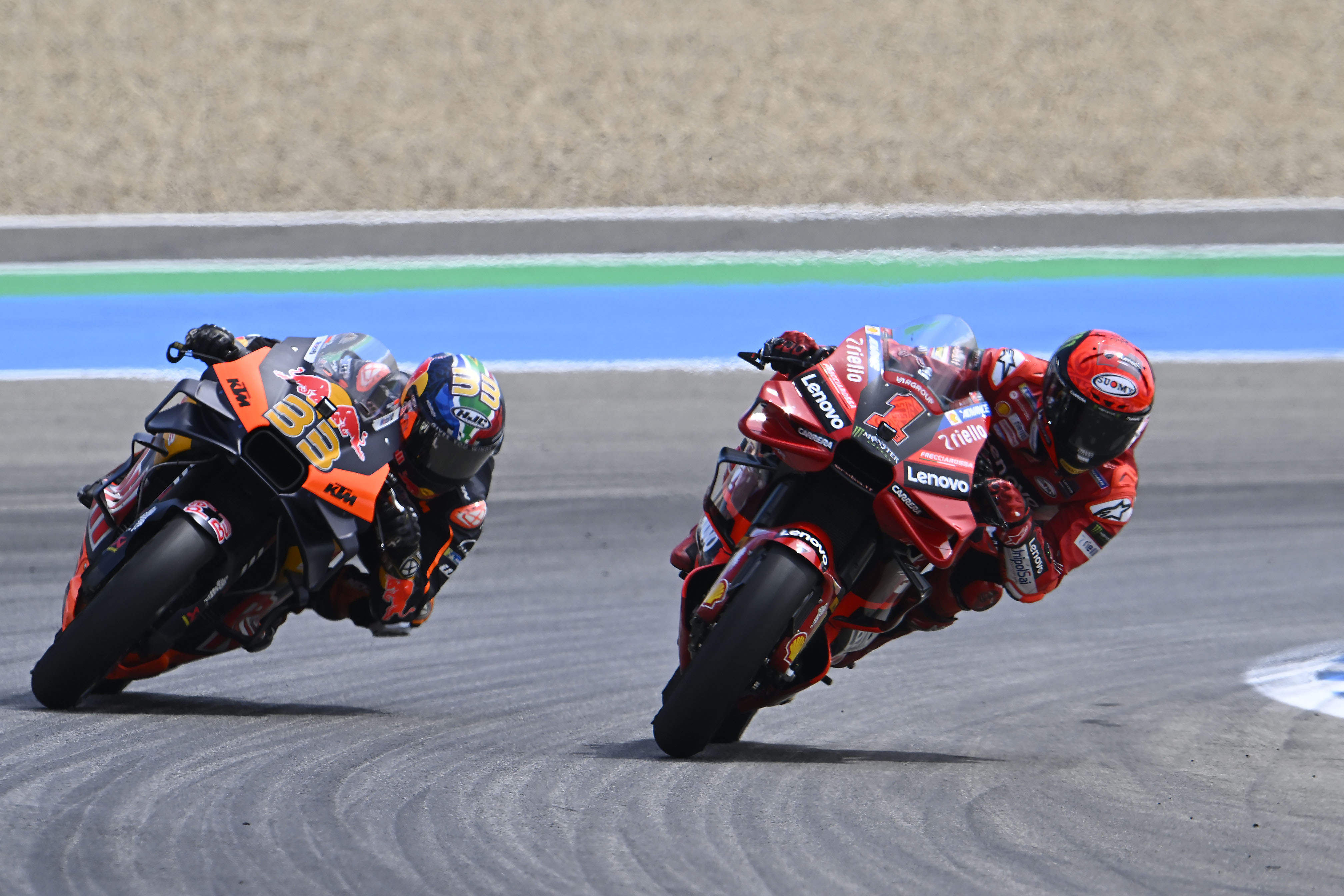 A review of the final corners does not make it seem like Binder was really close enough to properly attack Bagnaia. At the same time, KTM team-mate Jack Miller had come from a similar-enough distance back to send it down the inside of another Ducati, Jorge Martin – a move that was unpenalised despite irking Martin but had also come against a rider who has generally been, by his own admission, less accomplished under braking compared to Bagnaia on the Ducati.
The MotoGP stewarding panel, led by two-time 500cc champion Freddie Spencer, has sought to formalise somewhat how it approaches sanctioning this year, reportedly laying out a list of sanctions to the riders tied to specific types and outcomes of incidents. But it has continued to be criticised for its consistency and communication.
And, on Sunday, it was Martin who revealed that on Sunday the riders would have a meeting with the stewards, which are normally not present in the usual Friday safety commission get-togethers.
"They need to improve," said a characteristically blunt Martin. "Luckily we finally have a meeting with them – after two years or three years fighting with [promoter] Dorna, we will meet with them in Le Mans finally, with all the riders.
"So let's try to understand their position, our position and improve because it's no sense how they are working with it."
"I don't want to judge the way that they put the penalties, but let's see if together explaining and talking together we can improve something," said LCR Honda's Alex Rins.
"I would love to say what I think," quipped Quartararo, "but we will just have a discussion and see how it is possible to take this kind of decision [the crash penalty on Sunday]."
Binder, however, has tended to profess a public 'que sera, sera' stance towards MotoGP governance, and when asked whether he'd make his point in the meeting, said: "It's not my place, bud. I don't get involved."