Book Review: 'The Time Has Come': A Fateful Encounter in a Drugstore
An Illinois native and University of Illinois journalism alum, author Will Leitch calls Athens, Georgia home. Leitch is a media guy contributing to several national publications and the founding editor of the former sports blog "Deadspin." He has published five novels. "The Time Has Come" is his sixth and, like his fifth "How Lucky," is also set in Athens.
In an interview, he's an energetic, fast talker with a lot of thoughts going on in his mind and a lot to say. He's an avid sports fan, particularly of baseball. His mother was an emergency room nurse and his father an electrician. Utmost for him was his parents' unconditional support. He's a husband and father of two young boys. Crediting his parents, he has a strong work ethic. He's also super organized and structured.
I mention these specific attributes because many of them come into play in his latest novel. Structurally, his characters are introduced in a very methodical way even to the time-of-day readers meet them. But time is important in this novel as is the fabric of each of their personalities.
One of his characters works in construction and coaches baseball.  Another has two sons. A pivotal character works in a hospital as a nurse. Urban and contemporary, the dialogue, like Leitch's, is snappy, often clever, and very real. The conversations are like those that you'd overhear when you're out shopping or at a sports event or, in this case, culminating one hot night in June at Lindbergh's Pharmacy in Athens.
This long-revered establishment, reminiscent of nostalgic drugstores of decades past, is where the final encounter takes place. All the other descriptions and motivations of his cast of players leads to this culminating highpoint in the novel. Sounds like a cliché, but in "The Time Has Come" all roads lead to Lindbergh's.
Poignant Players
But let's get there, starting with his main protagonist, local fourth-grade teacher Tina Lamm, who is convinced that a dark and sinister secret is held behind the pharmacy's black door in the back of the store.  She's made it her missive to expose the mystery and punish, if necessary, the owner for his supposed wrongdoings.
Enter Theo, a young, third generation Lindbergh whose main identity is that of Buddy Lindbergh's grandson and Jack Lindbergh's son. An artist's rendition of the three of them adorns a familiar poster. Theo struggles with his own secrets and how to forge his own path.
Jason is a local contractor who works feverishly to provide for his family. His latest job takes him into a wealthy neighborhood for a high-priced addition. His gifted teenage son, Jace, is academically brilliant but also is passionate about baseball, the glue that bonds father and son.
Dorothy is in her 70s and has lost her husband and her bearings. She has two devoted sons and is challenged by her next steps after her husband's passing. She's also surprised herself with her resiliency and solid strength particularly in times of chaos. She fends off a would-be robber.
Karson, a young lawyer, is steeped in local activism but recently was lured to join an upscale attorney's firm. Will that move compromise his generous and caring heart? The money could make a huge difference for his family.
David is an aficionado of the local music scene. He quickly and sadly discovers that alcohol and fatherhood aren't a good mix. Now, he finds that sobriety has its own challenges, but having his daughter, an accomplished musician, back in his life is redeeming.
A nurse and army veteran, Daphne, has faith as her foundation. That and the unconditional love of her military father who accepts her as she is. She will play a critical role on the night of June 24 when she and all seven converge at Lindbergh's for various reasons. It's near closing time when all seven will be unexpectedly confronted by a frustrated teacher who is on a mission of justice.
Message in the Mayhem
Readers should not be surprised that violence is one of the ingredients during that fateful encounter on that hot, summer night. But so is courage, humor, caring, and redemption.
Leitch does a good job of fictionalizing a cast of characters, none of them perfect but all of them struggling to do the very best they can, given their respective upbringings and circumstances. I suspect that readers will recognize some or all of them as people you've known or know. They are very real and jump out of the pages, literally pursuing you to read on to find out what happens.
There's clearly a message driving his narrative. It has much to do with navigating a complex and ever challenging world where random acts of violence seem an everyday occurrence with a plethora of answers as to why. Random acts of kindness can counter otherwise harsh lessons.
"The Time Has Come" invites you into the worlds of ordinary folks faced with a myriad of choices, some good and some not so good, and the consequences that follow.
Most significant are the connections that the characters make: how they coalesce in a chaotic moment in time.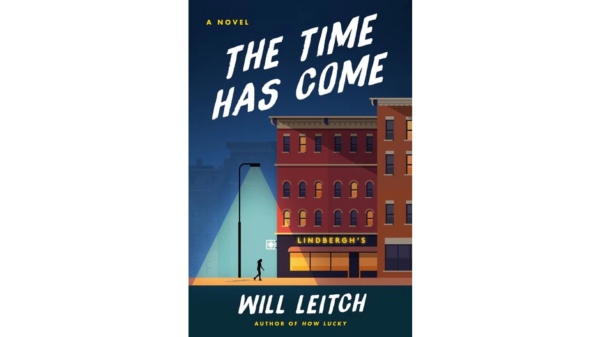 'The Time Has Come'
By Will Leitch
Harper Collins, May 16, 2023
Hardcover: 304 pages