'Clearly not a penalty' – Was Quartararo hard done by?
Yamaha rider Fabio Quartararo says that he had "no other solution" than the contact with Miguel Oliveira and Marco Bezzecchi on the opening lap of Sunday's Spanish Grand Prix, thanks to what he and many of his rivals have been adamant was nothing more than a normal opening-lap racing incident at Jerez.
Bringing out the red flags and leaving Oliveira in hospital for the second time this season through no fault of his own, the incident was one the RNF Aprilia rider was lucky to escape with nothing more serious than a dislocated left shoulder.
The crash happened when Quartararo, coming up from slightly behind, got sandwiched between Oliveira and Bezzecchi while braking for Turn 2.
"Bezzecchi was in front," Quartararo explained afterwards, "I was in the middle and I had no other solution.
"I could not escape this crash because I just tried to brake and stop, but I hit… I don't know who was first, but then the bike of Miguel took my clutch and I hit the bike of Bezzecchi. But I had no other solution, so I mean, the crash was 100% sure [unavoidable]."
However, while the former world champion might have understood the crash, he didn't understand what came next: a long-lap sanction from the FIM MotoGP stewards for causing the incident.
"Surprised," he admitted afterwards, "and we didn't see any reason why. I want race direction to have some explanation, no clear explanation was said. From our side, I think we don't see anything strange and I think it is clearly not a penalty."
The sanction had a double effect on Quartararo's race, given that he had to serve it again after dipping outside the long-lap loop the first time around.
Through hell and back to finish 10th!

Following the crash in the opening lap of the race, @FabioQ20 had to repeat his Long Lap Penalty after serving it incorrectly #SpanishGP pic.twitter.com/oHMHpLUsex

— MotoGP (@MotoGP) April 30, 2023
Quartararo was backed up by team boss Maio Meregalli, with the former racer explaining that he was left unimpressed by the stewards' reasoning – and believing that they themselves weren't fully certain of their decision.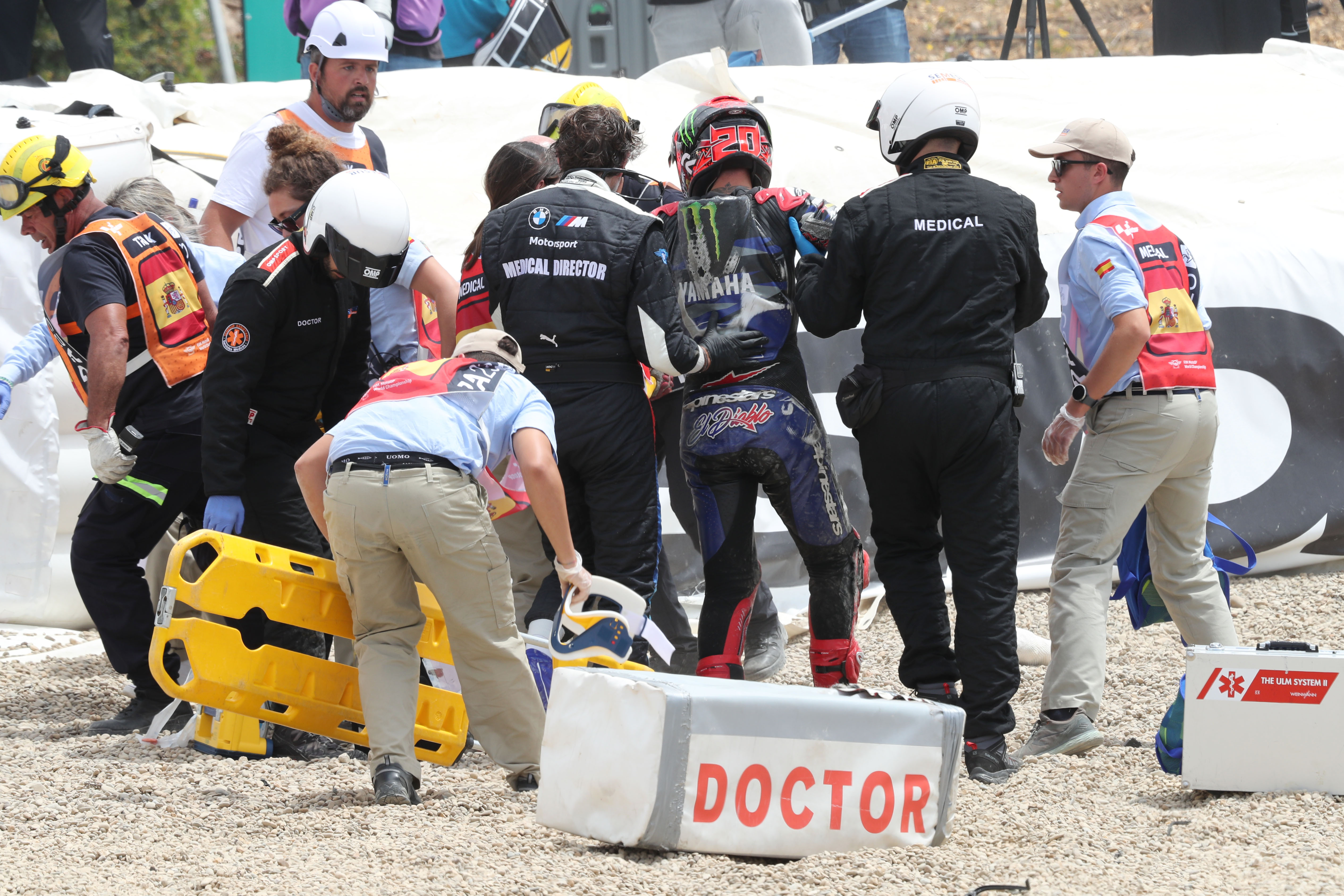 That visit to the stewards marked the second day in a row Yamaha had to do that, after Quartararo's team-mate Franco Morbidelli received the same penalty in very similar circumstances after the sprint – triggering an unsuccessful appeal, which wasn't possible in this case.
"We went to the race direction because we didn't really understand why they decided to penalise Fabio with a long lap," Meregalli told MotoGP. "After talking to them, we are even more convinced that they made a mistake.
"They showed us the images, many different views, and in the end they did not convince us that their decision was right. I'm disappointed, because for sure the race was compromised by their decision."
The Yamaha team was not alone in chalking up the crash as a racing incident, either, with Oliveira's team boss Razlan Razali (who publicly called for harsher penalties in the aftermath of his rider's crash with Marc Marquez in Portugal) also telling The Race that he didn't see anything egregious.
"Well," the Malaysian said, "in the heat of the moment and when we saw the review, the playback, honestly, I think it was a race incident and I think it's a bit harsh for Fabio to get the long lap. I mean, I feel it's a racing incident. It's just that Miguel's just unlucky, that's it. What else would you say?"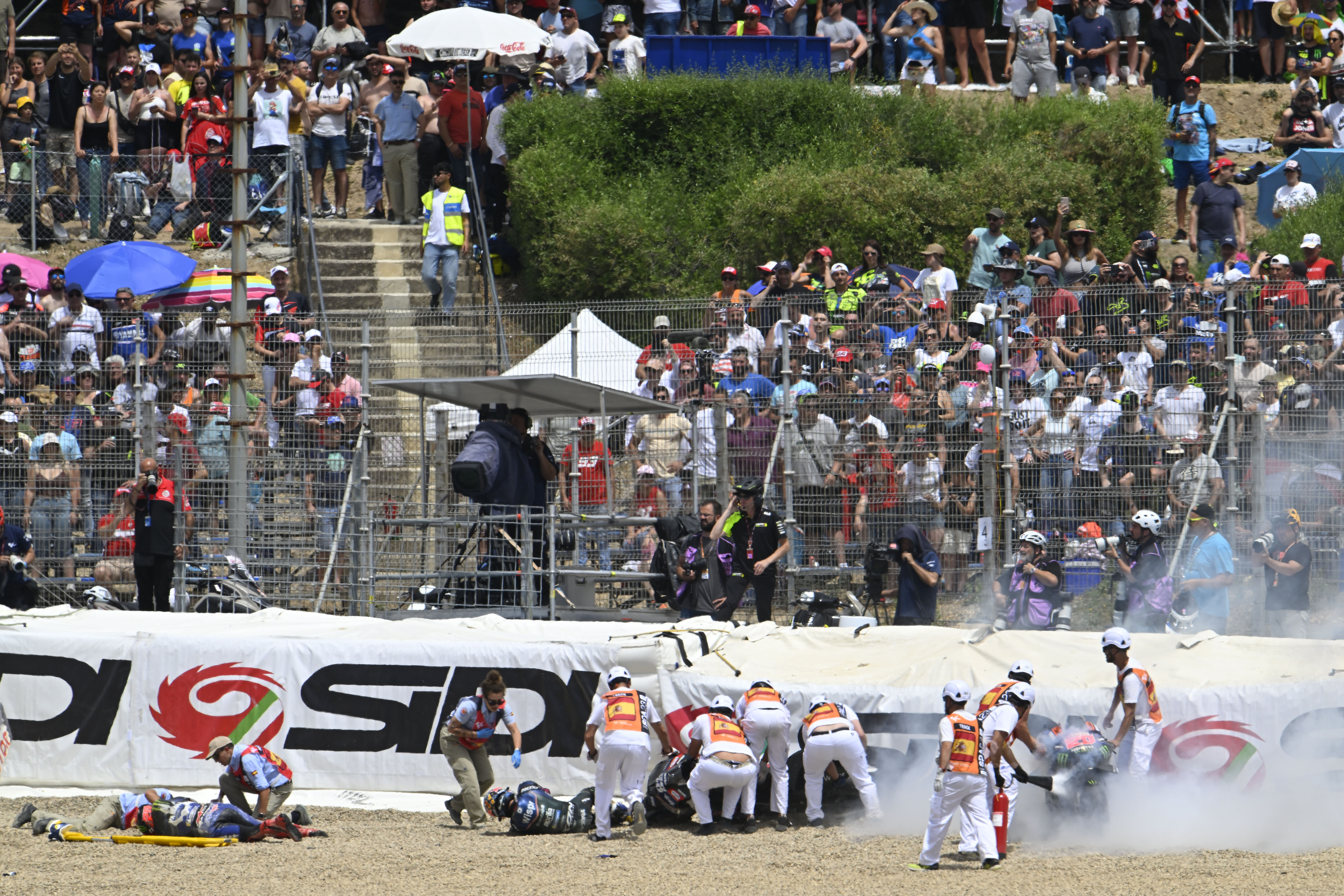 That's a stance that Bezzecchi also agreed with, at least on his first viewing of the incident, with the VR46 Ducati rider telling the media afterwards that he didn't believe that the Frenchman had done anything crazy before getting trapped in between his Ducati and Oliveira's Aprilia as they closed for the corner.
"For me, it was a situation that was a little bit also difficult to avoid," he explained, "because at the end the only thing that he could do was to brake a little bit earlier because he was in the middle between me and Miguel from what I saw, but I didn't have the time to look very well, so take it all with a [pinch of salt].
"So maybe braking a little bit earlier, but in the end it was difficult because the space is not so much. So it's a mistake that can happen, I don't want to say nothing about Fabio."
In fact, the only riders among Quartararo's rivals questioned about the move who came out somewhat on the stewards' side were the Pramac Ducati duo.
Compatriot Johann Zarco said that he understood why Quartararo's action was punishable under MotoGP's current rules.
"Hard to say," was his assessment. "Yesterday Fabio did an amazing start on the first one and he said on the second one that starting from 16th – if you don't get the right opportunity, it's tough to come back. And I think he tried to immediately get this strong start as yesterday…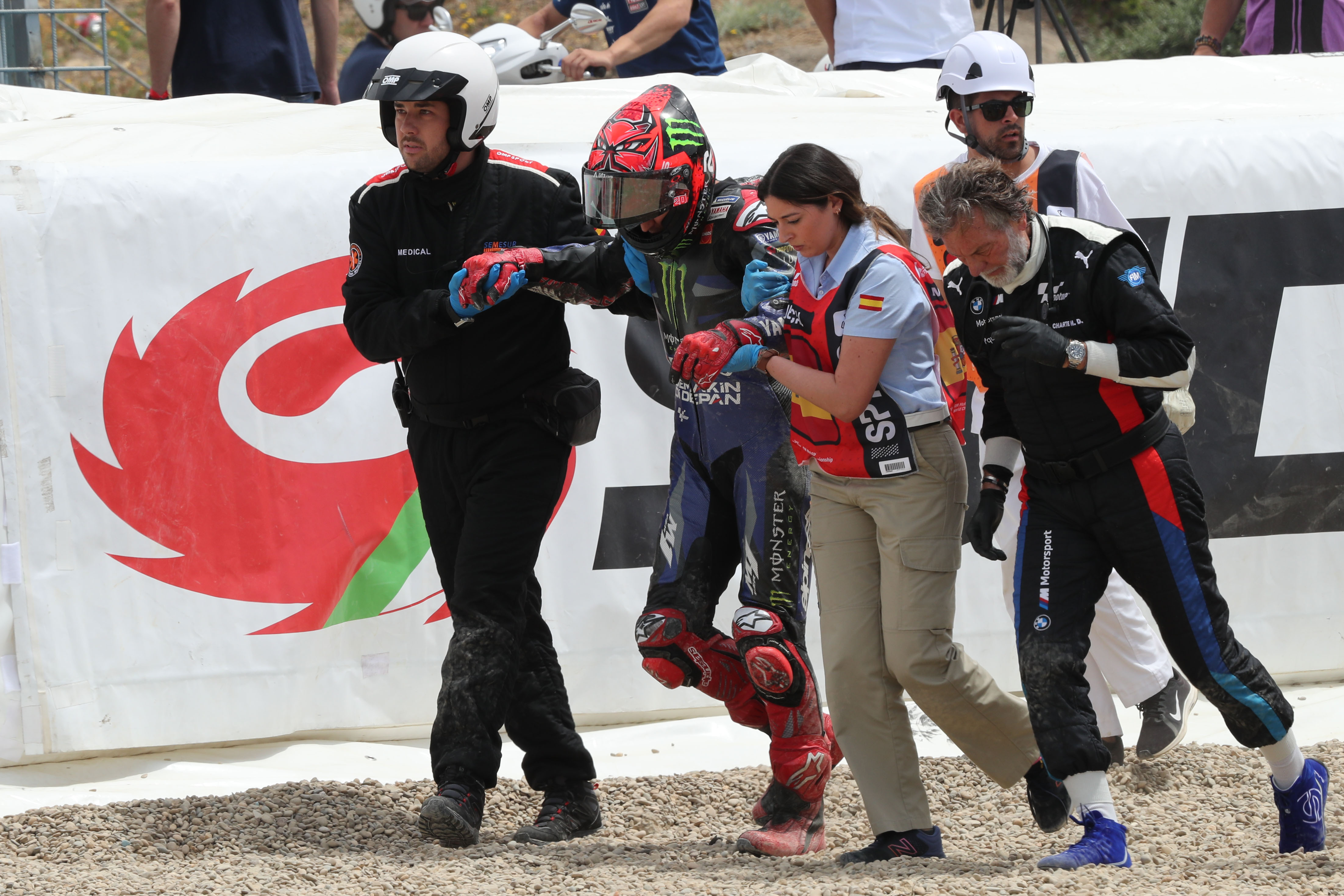 "Oliveira was struggling at that moment because starting from ninth he missed a bit at the start and it seems that on the first two corners he was struggling a bit.
"The way we have the rules now it can be normal that he can get the penalty because we are so close and he tried to go… didn't make it but maybe not a huge mistake, we can understand that he tried it because it was maybe the only way for him to catch position and then do a good race, but then yeah… with our rules now it's normal."
Team-mate Jorge Martin said suggested that Quartararo perhaps didn't fully account for the effect of braking right behind two other bikes, but admitted the situation was "difficult to understand".
"Maybe he was expecting Bezzecchi to go on the inside. It's complicated," said Martin.
"I hope Oliveira is well because it was not nice to see."