'Demoralising' – IndyCar superstar's setback is eerily familiar
It's rare to hear Josef Newgarden use terms like "demoralising" and calling his car "evil", but for the second year in a row one of IndyCar's best drivers faces a disappointing start to the season.
After a rear-end fire in St Petersburg, fuel issues in Long Beach and a crash on the first lap at Barber that ruined the handling of his car, Newgarden sits sixth in the points. Not bad, but also not where the Team Penske driver should be on pace after four races.
Newgarden was annoyed at Barber for not maximising his qualifying, and reiterated how good his car was after the morning warm-up, expecting to be a serious contender for victory.
Even after the contact he was constantly ahead of team-mate and eventual winner Scott McLaughlin in the first two stints, but after Felix Rosenqvist hit him on the first lap Newgarden's car was never the same.
Asked about whether the early damage caused his issue, Newgarden told NBC TV: "It's hard to say, but right after this hit, it felt like I had a right rear [tyre] going down.
"So, I radioed in for them to check the right rear pressure and it looked fine, there was nothing wrong with the pressure, but something else felt very, very odd.
"The story of the race was, when there were new tyres on the car, it was drivable. It felt off, definitely the right to left, asymmetrically off, but it was drivable on new tyres.
"And that was masking it.
"The problem was the left rear was getting destroyed, which is not the tyre that was hit. But whatever was going on over here, was having some effect over there. We just couldn't hang on at all and it went bad.
"I just wish we had the car that we had in warm-up, and we would have been just fine. But this was just evil. Just an evil-handling car. We were literally just holding on the whole race.
"Every second half of a stint was just a disaster and what a shame because we had the winning strategy.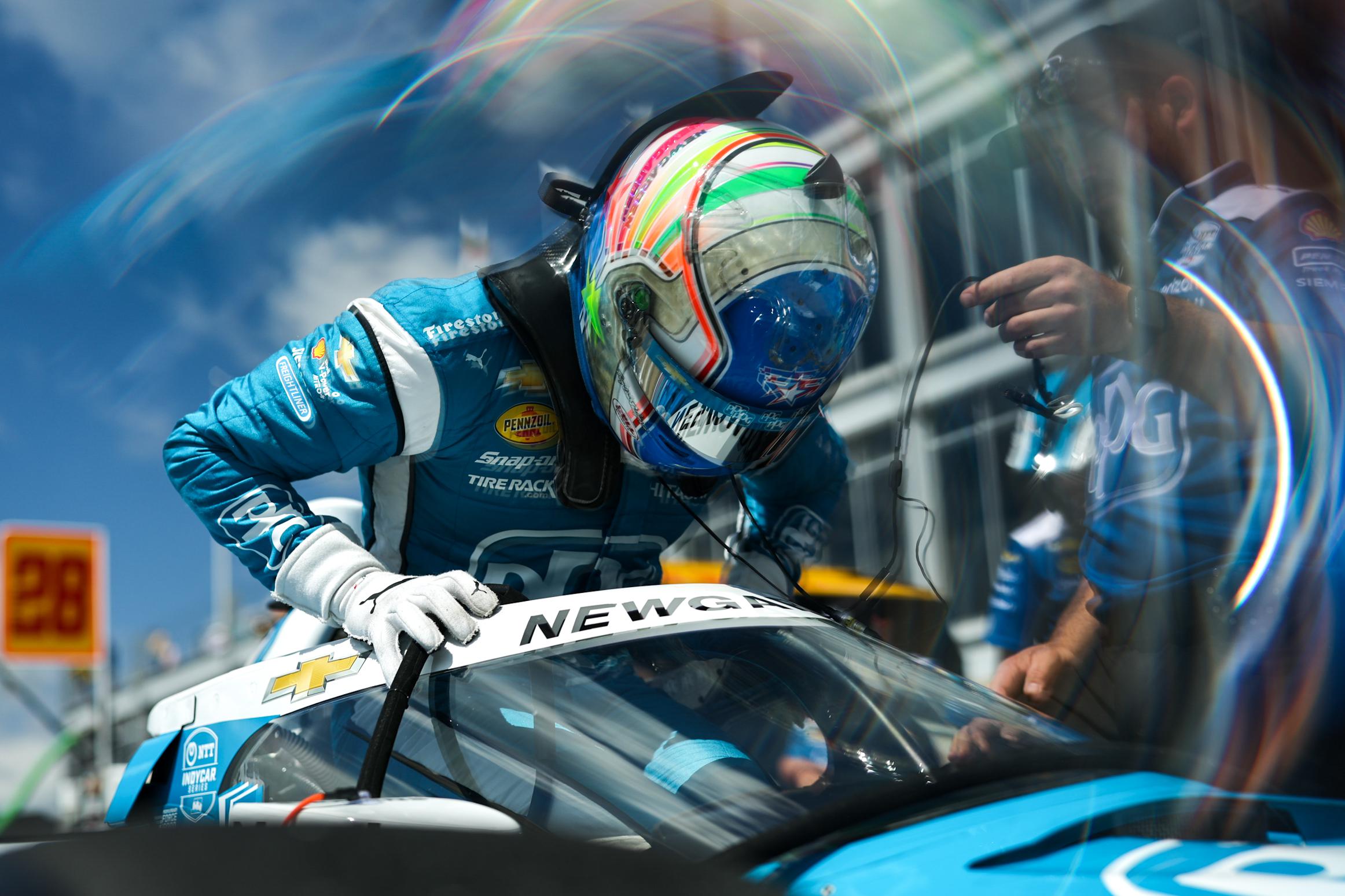 "It was a great day for Team Penske so I am obviously happy for the team, but we were in position and another one just gets away.
"This one got away pretty badly. So, pretty demoralising for the whole group."
It's eerie how similarly his 2022 and 2023 seasons have started. Newgarden won five races in 2022 but lost the championship to team-mate Will Power, who only won one race, hammering home the gulf in consistency between the two.
---
Newgarden's first four races in 2022
Points – 135, 3rd
St Pete – 16th, undisclosed issue
Texas – won
Long Beach – won
Barber – 14th, struggled for pace and three-stopper didn't work
Newgarden's first four races in 2023
Points – 105, 6th
St Pete – 17th, fire in the rear left ended his race
Texas – won
Long Beach – 9th, had to save more fuel than competitors or would have been in contention
Barber – 15th, first lap collision caused damage that lunched left-rear tyre
---
Consistency was not a common problem for Newgarden pre-2022, but he must be desperate to end his run of three consecutive seasons finishing second in the championship now.
Even after four races, he's sixth, only 25 points off the lead. If he's got his bad luck out of the way, he can definitely still win the title. It's way too soon to hit the panic button but the inconsistency is an issue.
Newgarden doesn't really subscribe to the word luck, but he certainly hasn't been at fault for almost all of the issues he's faced so far this season.
"Just pretty unlucky," said Newgarden when he was asked how he processes this start to the season.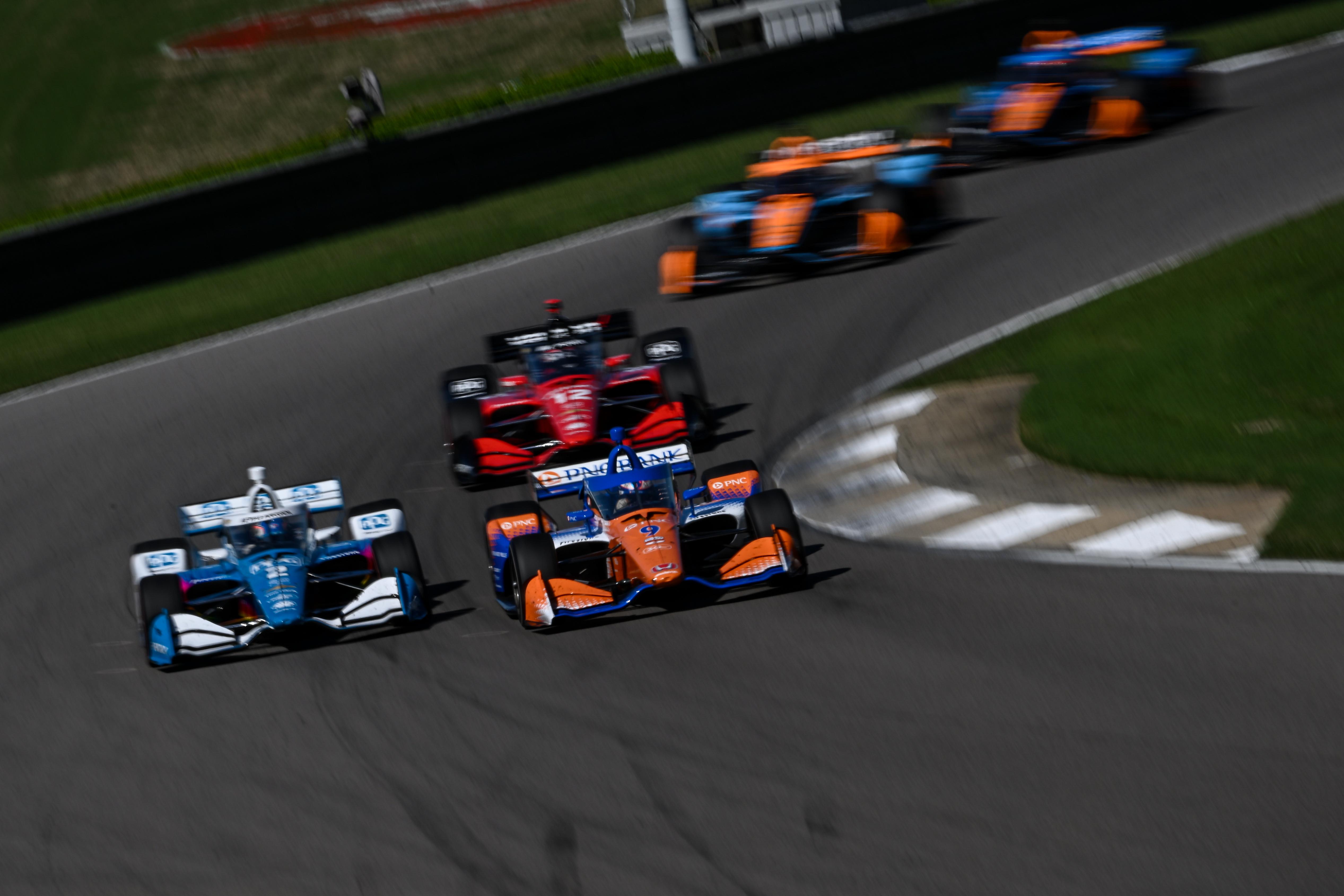 "I hate saying but luck, timing, they kind of go hand in hand. Certainly not been on our side.
"We're getting that out of our way and we're gonna have great timing, great luck for the rest of the year, then I'm all good with it.
"It'd be a shame if that trend continued going into the month of May. We've got an incredible group, it's not anything to do with them, just unfortunate timing."
Mentioning the group is important, because last year Newgarden had a new engineer in Eric Leichtle who came in weeks before the season started after Penske lost Gavin Ward to Arrow McLaren.
It's clear that personnel being shuffled and the bedding in time affecting things, and Leichtle leaving his role at the end of the year points to the fit not quite being right between everyone involved. Even if they did win five races together.
But with Luke Mason promoted to race engineer, Newgarden can't stop praising how good his team has been this year and there's definitely a contrast in how highly he speaks of his current personnel and their performance.
The personnel situation has been settled and for longer with key decisions coming last year instead of just before the season like they did in 2022.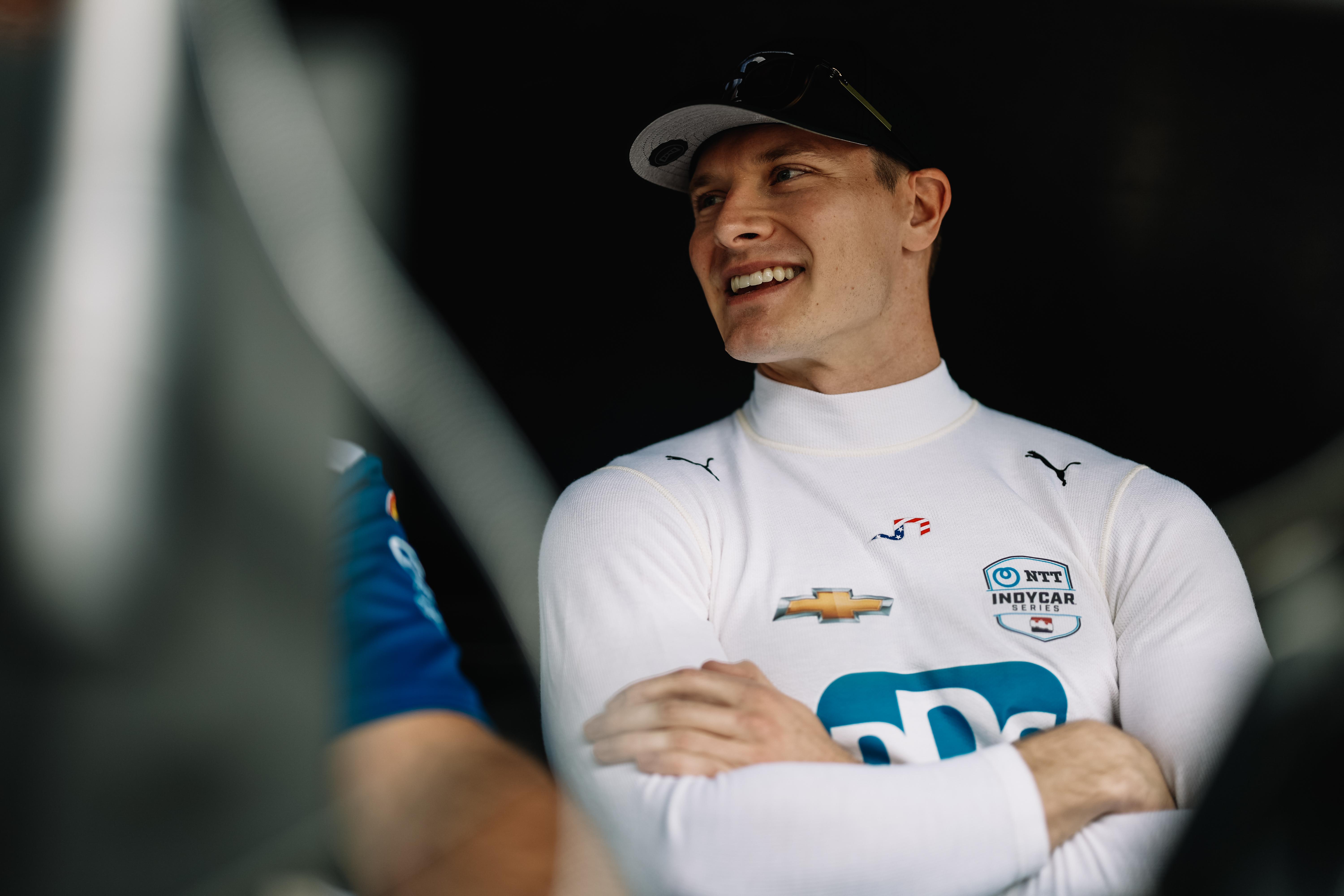 Between his YouTube series BusBros, his starring role in the first episode of IndyCar's documentary series 100 Days to Indy, and even playing with his son Kota during the national anthem at Barber where Kota's hat kept falling down and Newgarden kept picking it back up again, off-track Newgarden couldn't look more assured and comfortable.
He's arguably the series' most insightful and eloquent speaker when it comes to all aspects of racing, and off the track more and more of his personality is shining through. He's every bit the series' homegrown American star, certainly not out of place with the position he has risen to.
Whether it's pretending to be Thor in a picture where his crew dressed in shirts with bare torsos on, mocking topless Newgarden scenes in 100 Days to Indy, or breaking down the impact of aero changes at the Indy 500 open test, Newgarden's the whole package.
Looks like the No. 2 crew has taken up the @josefnewgarden #100DaysToIndy fitness challenge!

Green flag coming up soon from Birmingham. pic.twitter.com/8LDGvcbOUQ

— Team Penske (@Team_Penske) April 30, 2023
And if you had any doubts about just how good he is, there's one thing that may not have been spotted from the Barber race that absolutely rams home how elite he can be.
---
Best outlaps of the Barber race
1 Newgarden 1m08.9919s
2 Rossi +0.417s
3 Power +0.4709s
4 McLaughlin +1.0708s
5 Rosenqvist +1.0979s
6 Grosjean +1.3993s
7 Pagenaud +1.436s
8 Armstrong +1.501s
9 Lundgaard +1.5264s
10 O'Ward +1.6101s
---
Despite his asymmetrically challenging car, as soon as it had new tyres on it, Newgarden was rapid. In IndyCar there's no tyre warmers but there is refuelling, so an outlap is done on ice cold tyres with the car at its heaviest.
He was 0.417s faster than anyone – a gargantuan margin in the series – and over a second quicker than winner McLaughlin in the same round of stops.
To do that with a damaged car shows just how well Newgarden was driving despite his issues.
An outlap in IndyCar is one of the most challenging laps in modern motorsport, especially given the competition in the series and that tyre warmers and no refuelling in most other championships globally.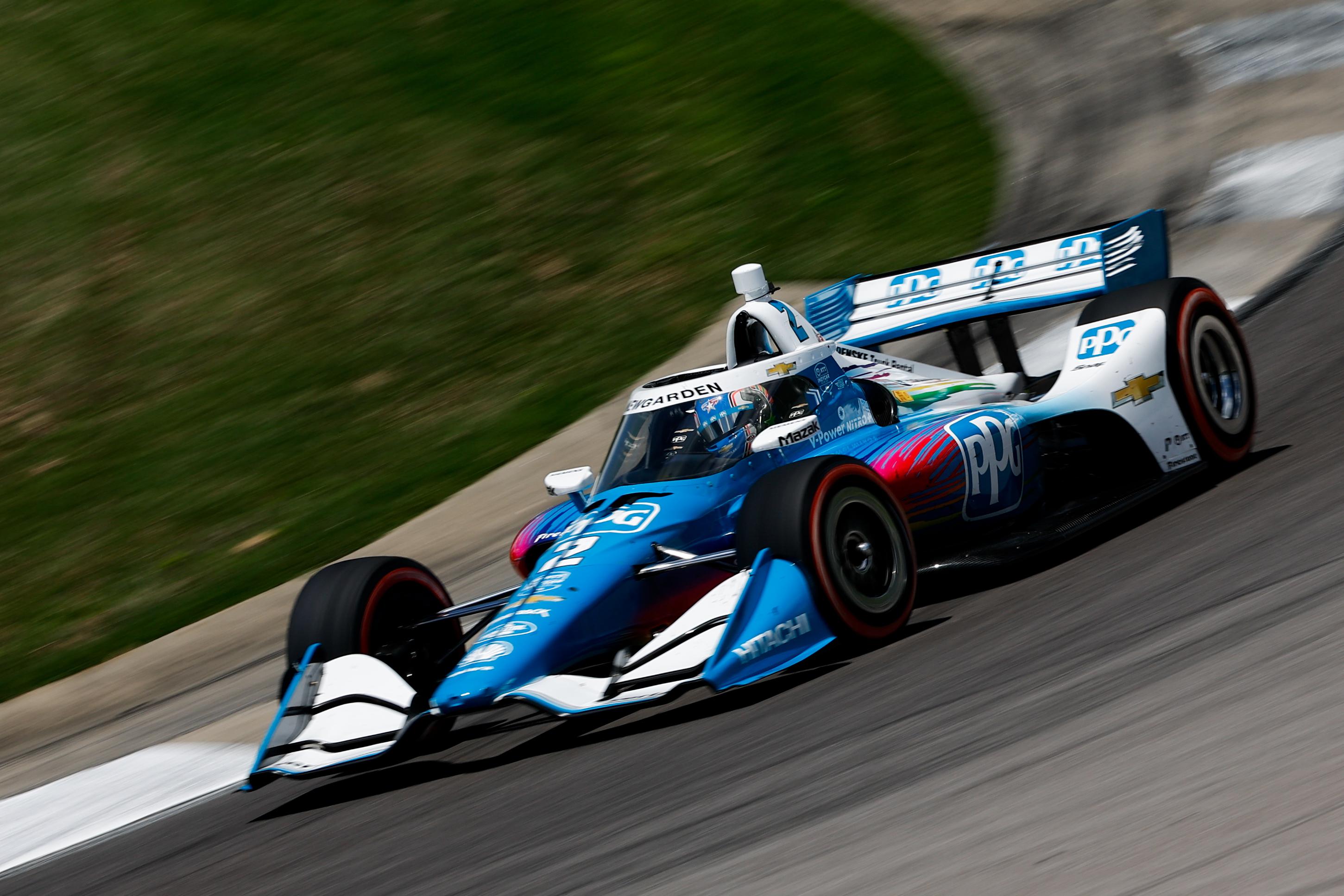 It's clear Newgarden is every bit as good as the other series stars that have beaten him to titles over the past few years.
The naysayers will point to his haphazard and luckless 2022 continuing into this year and that it will be tricky to mount an assault.
His fans can look at some of the intricate areas where he is still showing his ruthless form, and the settled nature of the team around him compared to last year as a sign things can be different.
May will be a huge month for Newgarden. If he fails to win an elusive Indy 500, it will be less costly in the championship this year because it doesn't count for double points.
But at some point, he needs to start building some consistent finishes and momentum, and May is a fantastic time to do that if you can get things right.
Penske's form has been patchy at the Speedway in recent years, but Newgarden says his confidence is still "sky high" heading into the Month of May.
How he fares will be a big part of this year's Indy 500 storyline.