Marquez risked career-ending hand damage if he raced at Jerez
Marc Marquez says his absence from MotoGP's Spanish Grand Prix is in no way related to his career situation or experience – but was rather a no-brainer decision because rushing back could've ended his career.
Marquez fractured the first metacarpal bone – the lower, longer bone on the thumb – on his right hand after crashing into Jorge Martin and Miguel Oliveira in the Portuguese Grand Prix at Portimao a month ago.
That instantly ruled him out of the Argentine Grand Prix the following weekend, and then left him on the sidelines for the Grand Prix of the Americas at his beloved Circuit of the Americas two weeks later, too.
And while the public expectation was that he'd at least return for Jerez this weekend, he has now been sidelined for a third straight event.
Despite this, Marquez joined the paddock on Thursday to discuss his recovery with the media.
"I tried to recover in four weeks. But honestly speaking, the doctors from the beginning said between six to eight weeks," Marquez said.
"But I was very optimistic and I tried all that I have in my hands to be quicker on the rehabilitation and to ride here in the Spanish GP.
"But unfortunately after Tuesday, the CT scan, we checked with the Madrid medical team [at Ruber Internacional], with [hand surgeon] Ignacio Roger de Ona and they said that it was too risky.
"Then they reconfirmed with the Mayo Clinic [in the USA] and also we reconfirmed with the Red Bull Centre and by unanimous decision they say that it was too risky.
"Riding here, of course, was some possibility but it was very, very high risk to destroy the surgery. So for that reason, when three medical teams say that you will destroy the surgery, then I decide I don't [ride at Jerez]."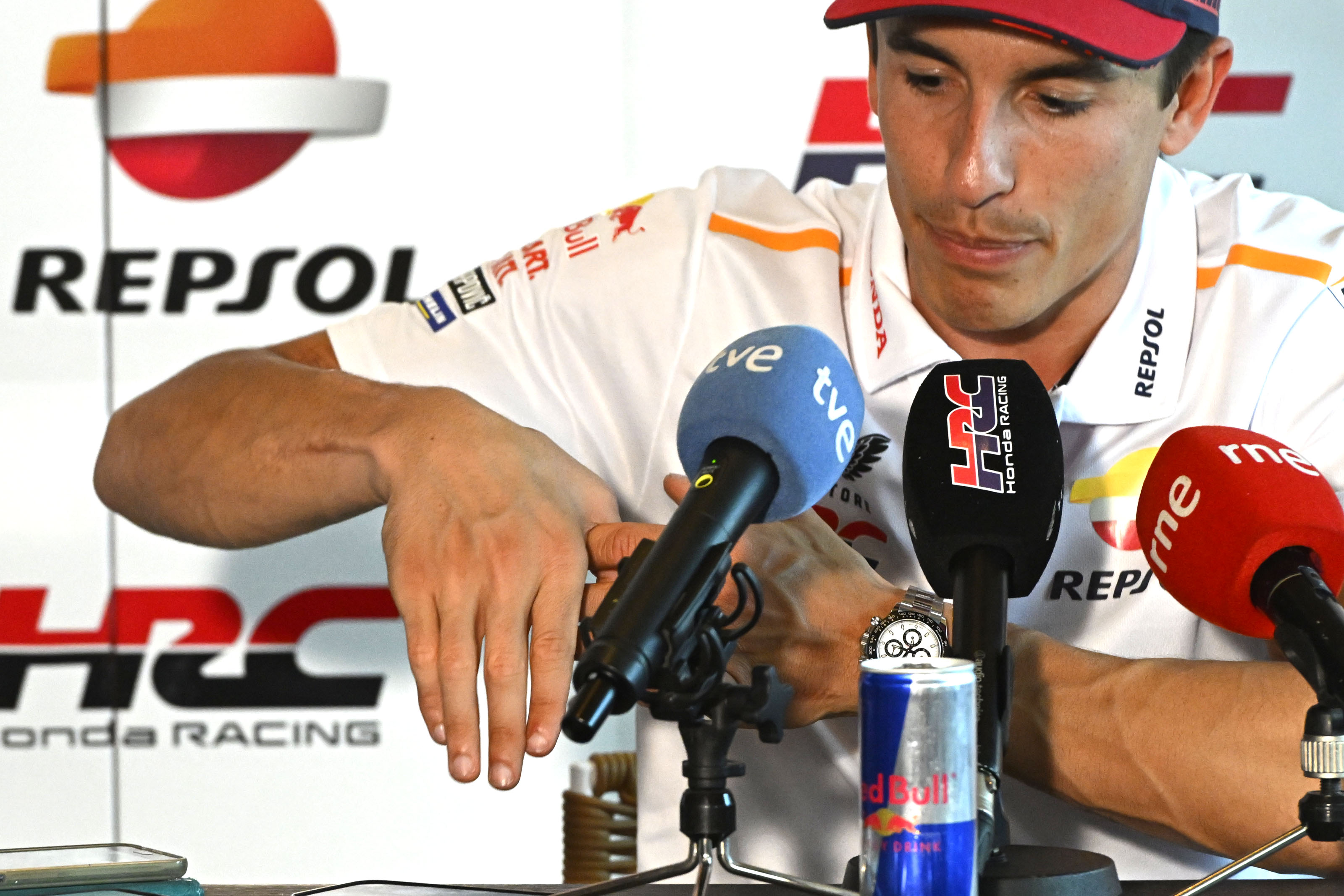 Asked whether his rushed Jerez return in 2020 that had set him on a long and tortuous part to recovery from his right arm fracture had played into his thinking, Marquez insisted that it was far simpler than that.
"When three medical teams say that you are doing a crazy thing and if you ride you will damage [it] again, then you must accept it.
"The main risk was like not crashing. It was like only with the pressure of the handlebar, you will destroy or you will damage it again especially because- it's a very small crack, but it's a crack that gives the stability to the finger. And this finger is one of the most important ones.
"If I re-injure again, they said to me already, they advised to me that it will be a big damage and not only for three months more, also for my career. Because now they were able to fix in a very good way, they did a very good surgery. But if I re-injure that, then maybe it can be the end of my career because it's a very important finger."
Marquez said that the "most important" consequence was missing the post-Spanish Grand Prix Monday test at the same venue. "I will not be able to help Honda on the track. But they have two good riders also that is [Joan] Mir and [Alex] Rins that can continue with the work on the project".
Marquez said the next round at Le Mans in a fortnight was now the "main target" for his return, but was "not 100% sure".
"I would like to come back as soon as possible on the racetrack to continue growing, helping on the project and trying to do my best as always."
Thank you for your feedback!
What did you think of this story?