Miller: Absurd to fault Michelin for Yamaha-caused red flags
KTM MotoGP rider Jack Miller sees little merit in Franco Morbidelli's argument that the Michelin tyres are the overriding factor in the aggression reflected in the two red flags at Jerez.
Morbidelli was penalised for his role in the multi-bike opening-lap clash that brought out an early red flag in the sprint, and his Yamaha team-mate Fabio Quartararo was then sanctioned for a Sunday opening-lap collision that has left Miguel Oliveira with a fractured humerus.
Neither rider felt they were at fault in their respective incidents, with Morbidelli keen to emphasise he hadn't been actually trying to overtake Gresini Ducati rider Alex Marquez when their collision triggered a pile-up.
However, after then seeing Sunday's crash, Morbidelli expressed concern, saying that MotoGP riders were being incentivised to be overly opportunistic in the early going because the current Michelin front tyre is struggling to cope with running behind other bikes as the front temperature, pressure or both spike out of control.
The dissatisfaction with the tyre's behaviour in traffic has been an increasingly common theme the quicker the MotoGP bikes have become, and Michelin has been working on a new specification of the front – although that may be a couple or so years away.
Yet when asked about Morbidelli's claim in the post-race press conference, Spanish Grand Prix podium finishers Pecco Bagnaia, Brad Binder and Miller weren't convinced – with Miller taking a particularly dim view.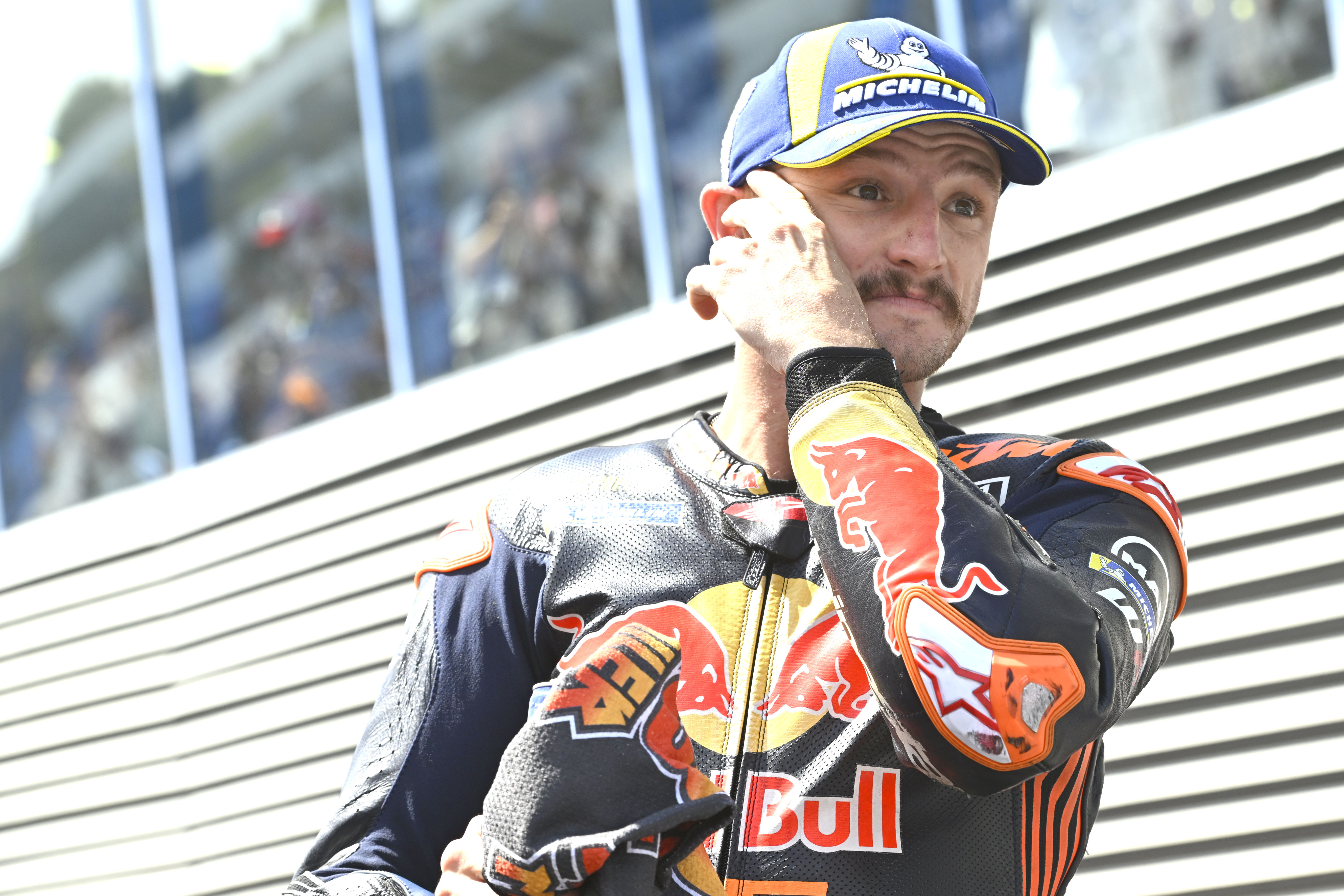 Bagnaia, Morbidelli's friend and a fellow member of the Valentino Rossi-led VR46 Academy, reckoned that both the red flag-causing crashes were results of track-specific circumstance and the nature of the coincidentally-named 'Curva Michelin', the second corner that was the site for both accidents.
He suggested Morbidelli shouldn't have been penalised, but acknowledged Quartararo may have been "optimistic" in how he approached the braking zone on Sunday.
"You can't blame the tyre if you hit each other!" was Binder's bemused short verdict.
"Yeah, that's like complaining on the motorway that Michelin caused you to crash your car when you had too many champagnes," Miller chimed in.
The Australian had perhaps foreshadowed his stern stance in an earlier answer, in which he had suggested it was wrong to allow Quartararo to even take the restart after the red flag given Oliveira ended up injured.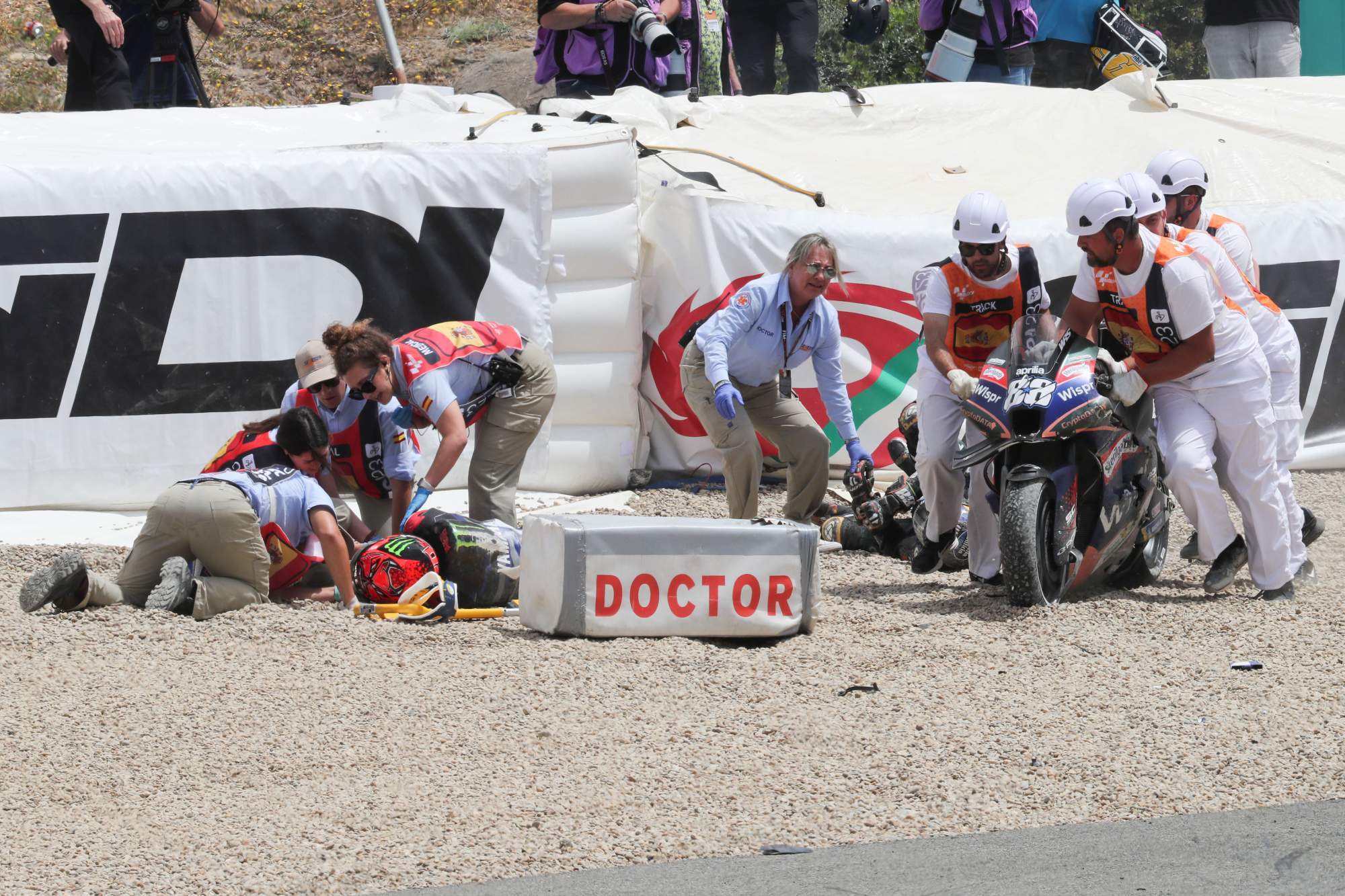 He continued: "He was clearly a bit optimistic – both Fabio and Morbidelli. Okay, we know that you need to be in the front to try and fight for these victories. But it's not Michelin's fault that you qualified 10th or 11th.
"This is ridiculous. Michelin have brought a fantastic tyre, I think, for all of us."
He also suggested that Jerez was not the ideal place to base any tyre conclusions off of, given the heat.
"It's… hot!" Miller proclaimed in an exasperated tone. "We had ground temperatures yesterday of, what, 55, 56 degrees? And we're trying to ride these 300-horsepower monsters around.
"It's hot. My feet are hot, my shoulders are hot, everything is hot."
Thank you for your feedback!
What did you think of this story?