MotoGP urged to 'think deeply' about 'dangerous' crash trend
MotoGP needs to "start thinking deeply" about what to do with its early-race incidents, according to Yamaha rider Franco Morbidelli.
Both the Jerez sprint and the main race, the Spanish Grand Prix, were red-flagged early on due to worrying multi-bike crashes on the opening lap.
On Saturday, Morbidelli was part of the shunt, colliding with Gresini Ducati's Alex Marquez and then, after separating from his Yamaha, being hit by LCR Honda's Takaaki Nakagami. His sliding M1 caused a crash for VR46 Ducati's Marco Bezzecchi, while the overall chain reaction caused Augusto Fernandez to fall in front of several riders a few metres back.
Morbidelli was penalised for the incident, though insisted he wasn't going for an overtake in that moment.
He was then given a front-row seat to the crash that unfolded on Sunday, as team-mate Fabio Quartararo ended up squeezed behind RNF Aprilia's Miguel Oliveira and Bezzecchi, taking himself and Oliveira into the barriers. Quartararo was sanctioned for his role in the crash, which left Oliveira with a humerus dislocation.
"Crazy start. We need to start thinking deeply about this. Deeply, deeply, deeply," said Morbidelli.
"Because another red flag, another scary moment, another dangerous moment. When everything goes fine, it's an event. So we need to start deeply to think about some solutions."
Though the two red flags at Jerez have been something of an outlier, there have been other early-race multi-bike incidents from this season to refer to, including those that caused injury.
Oliveira was part of a brutal Marc Marquez-triggered shunt at Portimao, which came a day after a Luca Marini fall caught out Enea Bastianini, with the Ducati works rider yet to fully recover and having had to withdraw this weekend.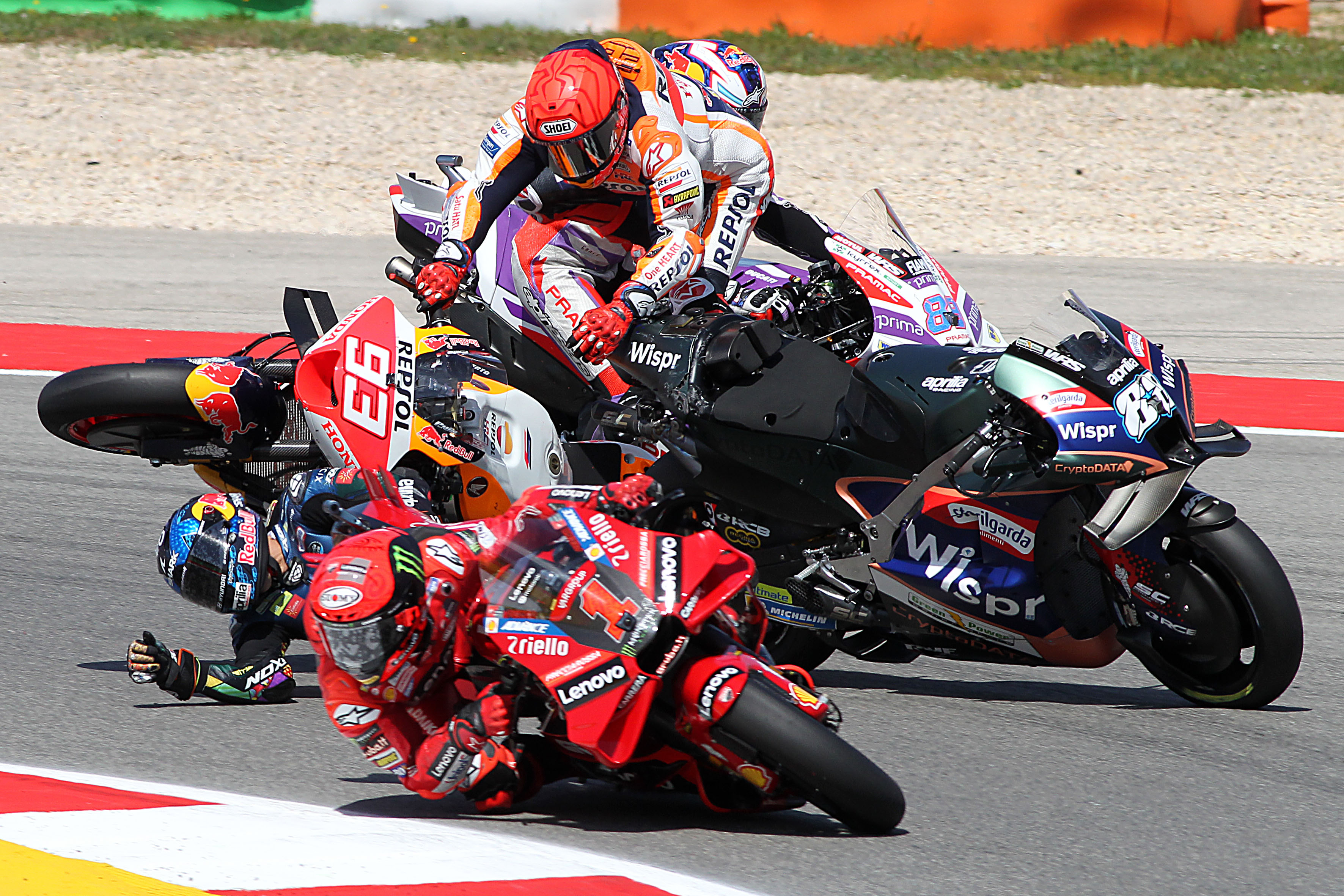 At Termas, Joan Mir clipped Fabio Di Giannantonio and was sent flying in the sprint, while in the COTA main race a Jorge Martin fall collected Alex Marquez.
Some of the current rate of crashes and injuries has been attributed to the new sprint format and its particular demands.
But Morbidelli after Jerez suggested for him the issue is not so much that as just the simple fact that riders are being put under pressure to do more in the now twice-as-common-race starts.
"Michelin tyres – they need to work on this, they need to solve this thing," Morbidelli explained.
"The technology needs to be at the same level in all areas. Now it looks like the bike technology outweighs the tyres technology.
"I mean, the tyres are very good, but they have a weak point that in hot conditions the performance drops and the race becomes… everything goes according to the front temperature and the front pressure.
"The bikes are fantastic, the tyres are fantastic because when the condition is cold, the performance of the tyre is good, great, I would say, they are unbelievable, but they have this big weak point and they need to push a lot and work to solve this problem because this is a problem."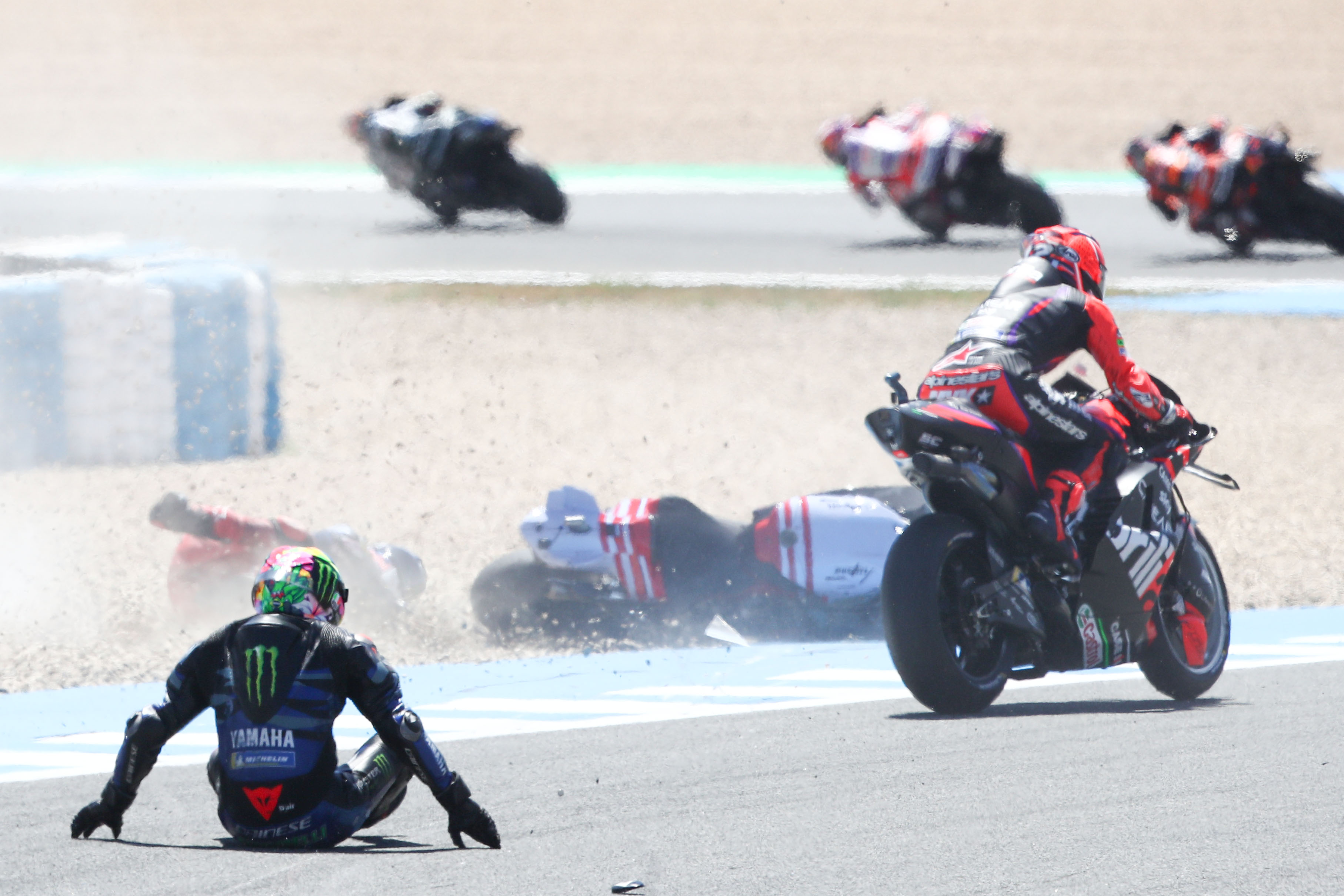 While a new Michelin front remains in development, riders' complaints over how hard it is to keep the front tyre in the right window in traffic have grown increasingly common over the recent seasons – and this, for Morbidelli, is the key to this "dangerous situation".
"Everybody tries to risk and gamble in the beginning to have this big reward. If you know that you can give your potential in the race [and not get compromised by traffic], you would be much more cautious in the first laps.
"But everybody starts with the aim of gaining as many positions as they can because most likely they are going to keep it because everybody that is behind is going to get tangled from pressure, from the temperature and that."
Morbidelli's viewpoint was echoed by Pramac Ducati's Jorge Martin.
"Everybody is too aggressive," Martin said, suggesting then that Quartararo on Sunday perhaps didn't account for being in the pack in how he braked leading up to the crash.
"It's difficult to overtake, so we try to get in a position where you can be at the front at the first lap.
"In the first place, it's difficult to stop these bikes – it's a really big bike but as soon as you see you are behind two bikes, you need to close up a little bit earlier."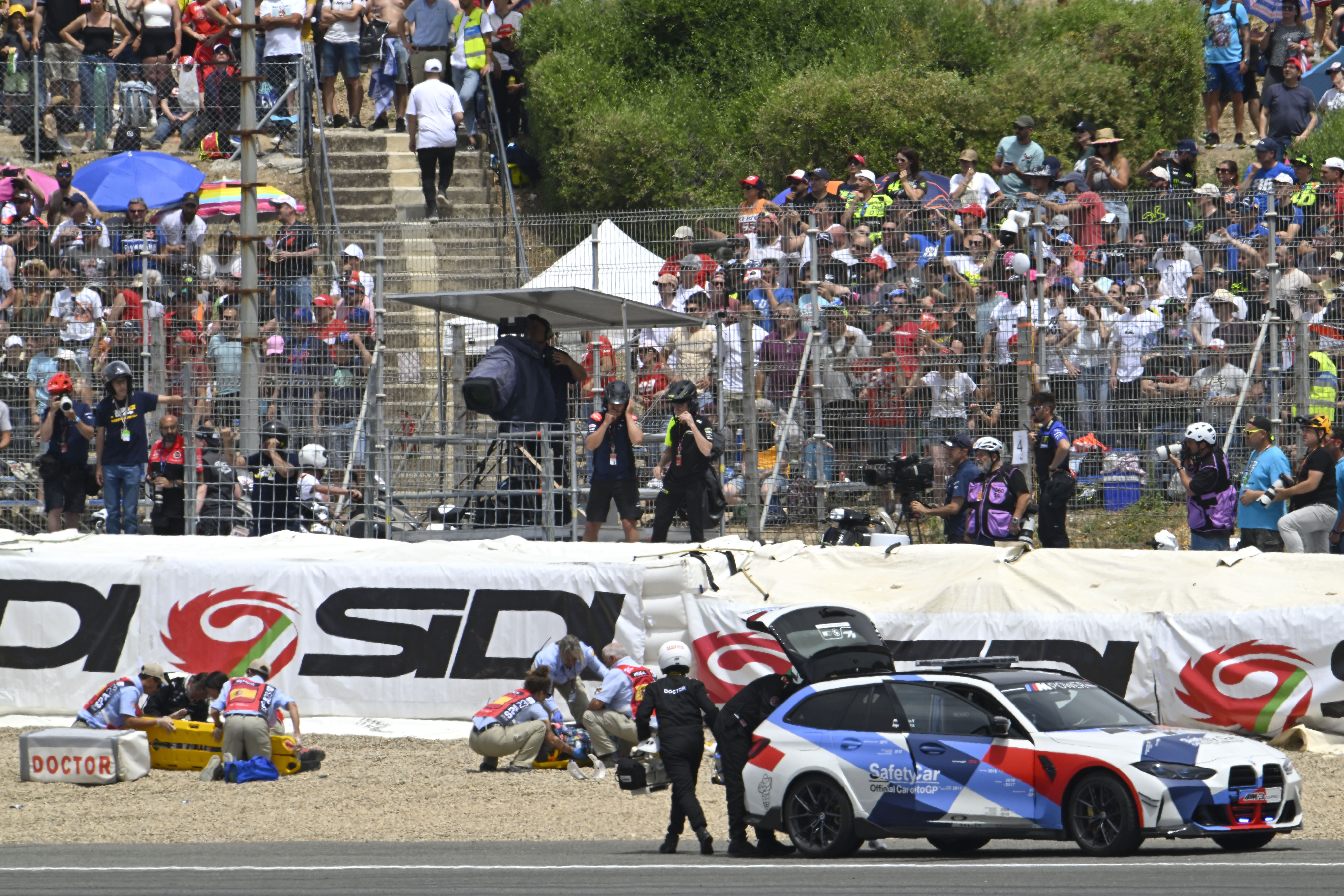 The aerodynamic development and the introduction of ride-height devices have been cited as causes for the difficulties with the front tyre given the extra load generated.
"They need to choose," said Morbidelli.
"So they need to choose [between] raising the level of the technology of the tyre or lowering the level of the bikes."