MotoGP's ex-underdog needs to stop squandering chances
The 2023 MotoGP title seems like one no rider wants to win given the amount of inconsistency among the leading stars and factory Aprilia riders Aleix Espargaro and Maverick Vinales appear to be among the worst squanderers despite arguably possessing the second-best bike.
Saturday's sprint race at the Spanish Grand Prix was just another example of the state of play in the team, with polesitter Espargaro crashing out of the fight for the podium and Vinales once again hampering himself with a woeful race start that left him with way too much work to do in the shortened race format.
The crash for Espargaro was particularly painful given that his unlikely underdog title campaign in 2022 was built on consistency – but now his Saturday fall at Jerez is his third in seven races so any hopes of a repeat of last season look to be rapidly slipping away from him.
Espargaro is sitting in a distant 14th in the standings and trailing leader Marco Bezzecchi by 47 points, so it's going to be a big ask for him to claw that back unless he finds some consistency sooner rather than later and starts to see the chequered flag far more often.
And that's even more painful considering that he started the sprint (and will start Sunday's main event) from pole position, evidence of just how good the current Aprilia RS-GP machine is.
Since pre-season the Aprilia has looked like the most likely bike capable of consistently rivalling the might of Ducati this year. On plenty of occasions the riders have demonstrated the bike's impressive speed – but just not often enough when the chequered flag has dropped.
That's something that Espargaro recognises, too – and he is insistent that it's been made worse by the addition of sprints to the 2023 format as the aggressive, shorter races mean a wholly different riding style is required.
"You have to make a perfect start to be in front, because otherwise to overtake is very difficult," he explained after Saturday's crash. "My bike today was fantastic, without doubt one of the very best out there. But we're not really able to ride stop and go.
"The KTM boys brake super deep, pick up the bike and accelerate, but that's not the way to ride the Aprilia. Unfortunately in the sprint races, this is the way you have to ride. I lost ground on the start and then trying to recover, I crashed."
On the other side of the box, things are arguably both better and worse. On one hand, Vinales has without a doubt had a stronger start to the season, something evident from the championship standings where he sits third behind Bezzecchi and reigning champion Pecco Bagnaia, a significantly healthier 17 points from first.
But on the other hand, the cause of his own particular inability to convert pace in both races and qualifying into what should be a relatively easy string of podiums is abundantly clear when you watch any of his race performances: his opening lap compromises him badly.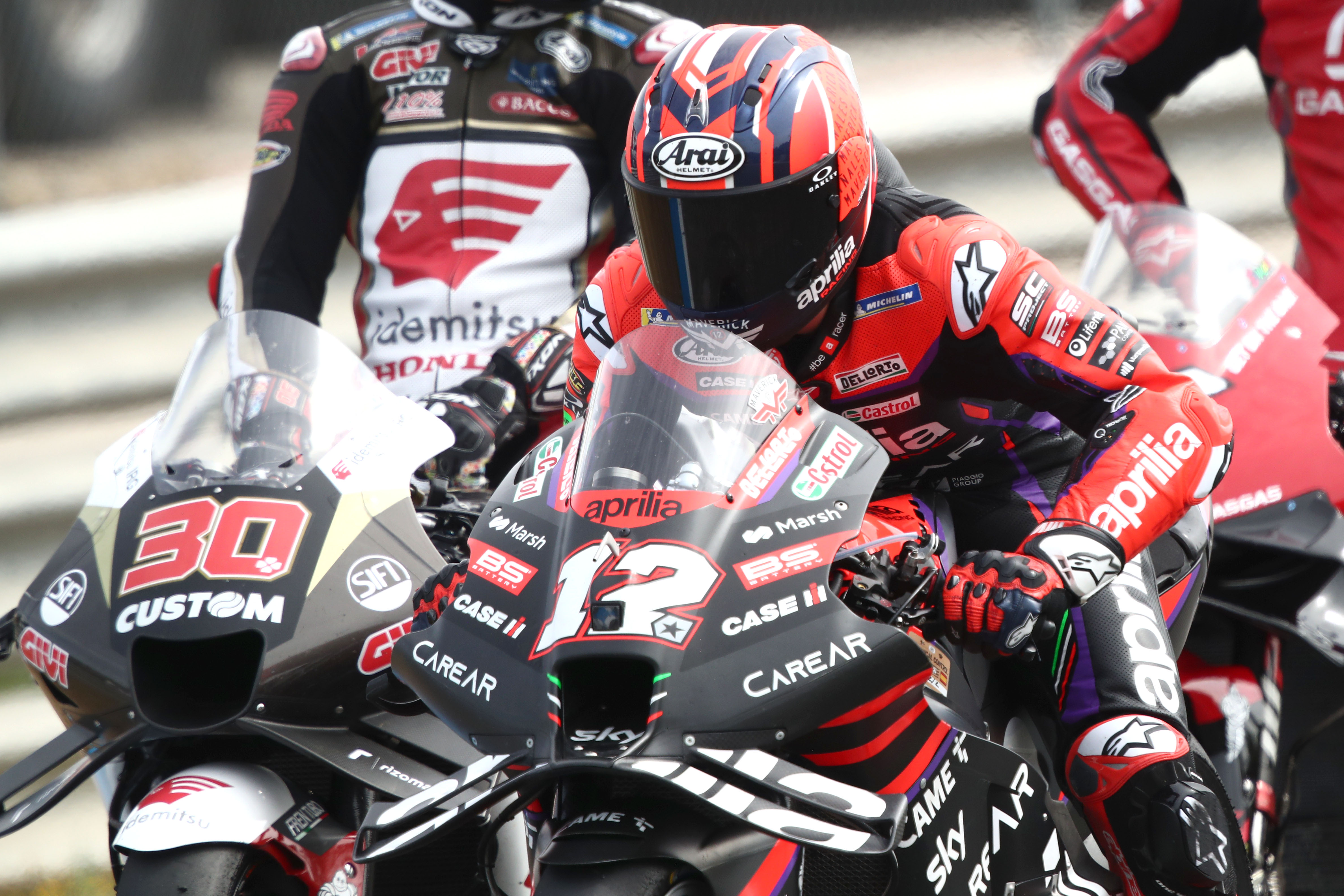 Vinales being a poor race starter is hardly something new as it's been an issue that has plagued him since his Yamaha days.
He's previously complained about the feeling with a full fuel load, clutches that don't give the correct feedback and most recently at Aprilia, the way in which the electronics on the bike are set up which means that he's left with a mountain of work to do every time.
That's been recoverable to an extent in the main races this year, with his best results of second and fourth clawed back from fifth and 10th respectively. But, with less time to do that in sprint races, he's conceding valuable points every single Saturday – as evidenced by fifth, seventh, 10th and seventh in the four of them.
For a team that's arguably had race-winning pace at all four rounds of this year's championship to date, that's more than disappointing – it's squandering a fantastic opportunity to put a real dent into their rivals, especially as long as title favourite Bagnaia, in particular, continues to endure a somewhat rocky start to his championship defence.
Thank you for your feedback!
What did you think of this story?