Niggling problems are wasting Aprilia's 2023 MotoGP potential
MotoGP's Grand Prix of the Americas was yet another round of the 2023 world championship where Aprilia had the potential for podiums but came away with very little after another catalogue of errors that need to be addressed sooner rather than later for both the factory and its new satellite squad to have any hope of fulfilling what they're capable of this year.
Maverick Vinales once again looked to have winning pace coming into Saturday's sprint race, not for the first time this season. But he came away with just 10th place in the opening battle and though Sunday went better with a fourth-place finish, it was far from his potential.
There was a consistent factor behind what went wrong for him, with his traditionally weak start costing him the chance to fight for a decent result on Saturday and the win on Sunday. He dropped back too far to recover in the sprint but was able to do more in the main event.
It's something that we've unfortunately come to expect from Vinales over the years, with his opening-lap weakness stretching back to his Yamaha days.
But having worked hard to complete literally hundreds of practice starts since joining the team and trying to perfect that weak area, Vinales was adamant on Sunday afternoon that it's something he's getting better at – and that his weekend in Texas was let down not by him but by his Aprilia RS-GP.
"It was a really good result," he insisted about his top-four finish, "but it's a shame too because I think we had the potential to win the race, or at least to fight for it.
"But we need to work. It's mandatory that we have to fix it. That's clear.
"I think it's the setting of the clutch, because the procedure of myself and my team-mate is very similar but the behaviour of the bike is very different.
"It must be something that as Aprilia we need to improve. We're not worrying about it because we have the speed, but if we can be at the front and winning races then even better!
"It's not aggressive. It's a matter of finding the correct setting with the correct power and electronics. I have no idea how."
While his issues might have prevented him from fighting for the win, the race at least ended better for Vinales than it did for either team-mate Aleix Espargaro or satellite RNF rider Raul Fernandez, both of whom were caught out by faults with the RS-GP's ride height device that caused Espargaro to crash on the opening lap and Fernandez to retire into the pits.
It's not the first time that they've encountered such an issue and, indeed, Aprilia's not the first factory to have a similar problem. It's something that some paddock insiders have speculated might have been made significantly worse by the bumpy nature of the Circuit of the Americas – even if that might not be much consolation to Espargaro.
"I did a good start, I was up to P3, and when I accelerated I felt that the rear ride height device stayed low," he explained. "I did all the first lap low, and when I touched the throttle in Turn 11 I lost the front.
"Nothing much more I can say, but I think Raul had the same problem.
"They need to solve it, because it's not the first time that it has happened. It didn't happen once last year, not a single time, but we changed it a little bit this year, from 2022 to 2023.
"We had it in pre-season, but we haven't had it in the first few races. Normally it happens when it's super-hot, but we're not super in control of when and how."
With Fernandez encountering the same problem after a strong start of his own that left him running alongside Vinales and team-mate Miguel Oliveira before the problem, it meant that what could have been an excellent day for the RNF squad was downgraded to only a good one.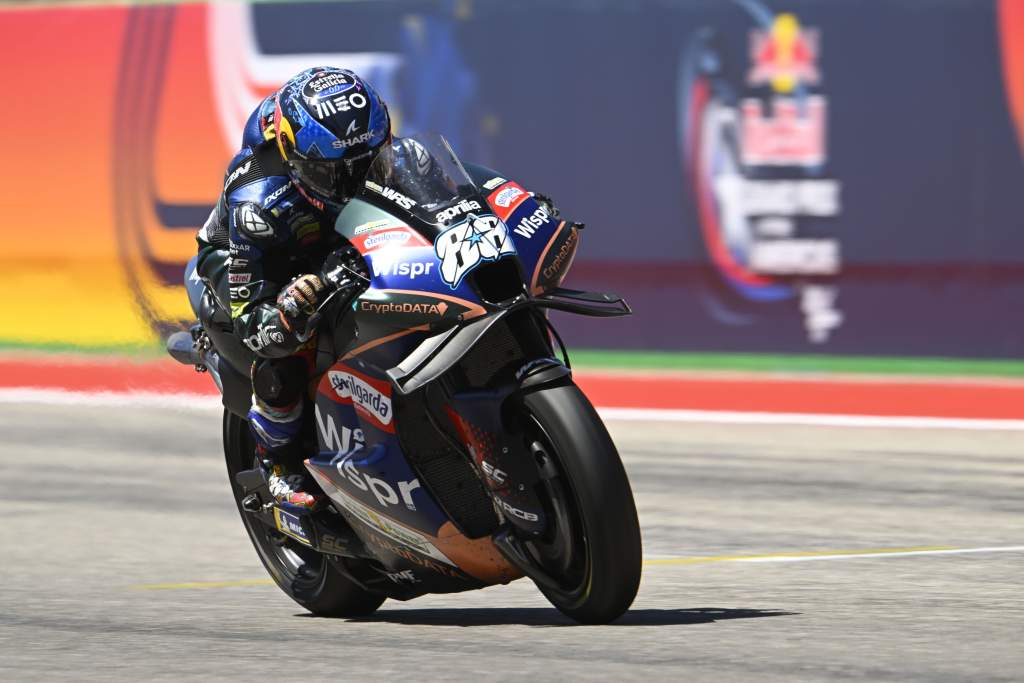 Oliveira was able to come home right behind Vinales in fifth, the team's best result since its inception last season on Yamaha machinery – an impressive performance considering that the US race was essentially his first of the year after getting wiped out at home in Portugal and being forced to sit out the previous event in Argentina.
"Not too bad a day," Oliveira downplayed afterwards. "It was a tough day because it was so easy to crash, so I was really happy just to stay on the bike and be really competitive.
"It was a small victory after coming back from an injury on a track that I really don't like."
Aprilia is far from crisis territory, but given 2023 was supposed to be the year it cemented its new frontrunner status – and considering the bike has the potential to do so – the lack of results and the niggling reasons for that will be highly frustrating.
After three rounds of 2022, it was fresh from its breakthrough victory in Argentina and actually led the riders' championship with Espargaro.
Right now Vinales is its best championship contender in fourth, 19 points from leader Marco Bezzecchi (but actually on the same 45-point tally that Espargaro led with after round three a year ago), while Espargaro is a distant 13th in the standings and 51 from the front already.