Power Portraits of Tudor Monarchs
The Tudor monarchs, via their art, are on a year-long royal progress of the United States with the exhibition "The Tudors: Art and Majesty in Renaissance England," currently on view at the Cleveland Museum of Art (CMA) until May 14, 2023. This show debuted at The Metropolitan Museum of Art and will travel later this year to the Legion of Honor, Fine Arts Museums of San Francisco (June 24–Sept. 24). "The Tudors" is the first major exhibition in America of Tudor-era paintings, sculpture, jewelry, armor, tapestries, manuscripts, and precious metal and porcelain objects.
The Tudor dynasty lasted only three generations, from the late 15th century to the very early years of the 17th century, yet it is the most globally recognized British ruling family. During its transformative reign, England emerged from medieval feudalism to become an international power through maritime trade, the Protestant Reformation, and the English Renaissance.
The family's tumultuous reign began with the founder's seizure of the throne; included Henry VIII's break with the Roman Catholic Church; and continued with Queen Mary I and Queen Elizabeth I, England's first two reigning queens.  According to Cory Korkow, curator of European paintings and sculpture at CMA, the Tudor monarchs understood the diplomatic and promotional value of art.
King Henry's Imposing Portrait
The Met's co-curator of the exhibition, Adam Eaker, writes in the show's catalog that "Henry VIII's portraits served as statements of his authority, the lavish palaces he occupied, and the wealth and power he commanded." The full-length painting "Henry VIII," by the Workshop of Hans Holbein the Younger, a radical departure from earlier English royal portraiture styles, embodies this statement.
Henry is depicted in a frontal pose with an aggressive, swaggering stance that fills the canvas. His infamous girth is converted into an asset as an imposing barrel chest. Henry's feet are planted firmly on an imported Turkish rug and one hand grips a glove while the other hovers near a dagger. The king's immense wealth is conveyed through lavishly embroidered dress and glittering jewels that adorn his person from hat to hands.
The sumptuous palace setting is illustrated in vivid color and includes walls seemingly paneled with malachite and porphyry stone and a dramatically puddled damask curtain. A shell-shaped carved alcove frames the king's head, which is marked by an intense, authoritative gaze. The artist is able to convey the monumental power and authority of the King without the inclusion of traditional royal symbols, such as scepter or crown.
This specific painting is based on an original work by the German-Swiss artist Hans Holbein the Younger that decorated a palace stateroom and was later destroyed in a fire. Holbein, one of the greatest Renaissance portraitists, served as Henry's court painter and was admired by the king for his ability to render naturalistic faces. He was also a talented jewelry designer and may have designed some of the king's jewels included in the painting.
Holbein is renowned for his skill in oil paint, a medium which allowed for exceptional detailing and modeling, and his portrayal of three-dimensional figures with psychological depth. As Dr. Charlotte Bolland, a senior curator at the London National Portrait Gallery, describes on the podcast "If Jewels Could Talk," viewing exceptional Tudor royal portraits can make one "feel you can have an encounter with them as an individual."
Mary Tudor's Portait of Authority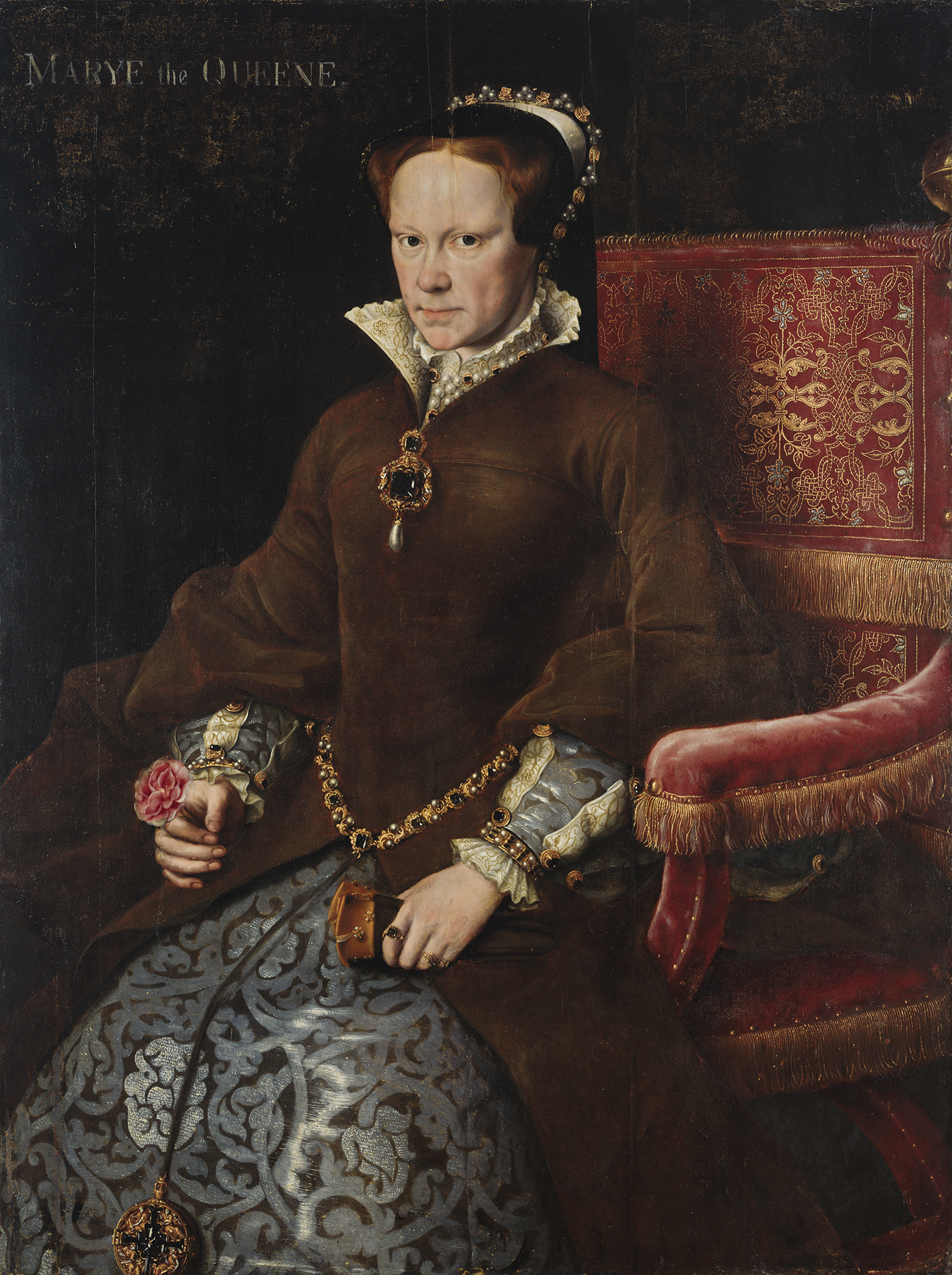 The exhibition continues with portraits of Henry's successors, including an arresting one of Queen Mary I. Mary was King Henry VIII's only surviving child from his marriage to Katherine of Aragon. When Henry divorced Katherine to marry Anne Boleyn, who gave birth to the future Queen Elizabeth I, he broke with the Roman Catholic Church and had Mary declared illegitimate.
It seemed unlikely that Mary would one day rule, especially after the birth of a half-brother and male heir. However, before Henry's death, Mary, along with Elizabeth who had also been declared illegitimate, were added back to the line of succession. Their younger brother, who succeeded Henry VIII, died in his teens, and Mary, who had remained faithful to Catholicism, fought off a rival Protestant claimant to the throne. Portraiture played an important role in projecting her power as Henry's heir.
"Mary Tudor, Queen of England," painted by Antonis Mor and Workshop, was created a year after Mary became queen. Several copies of the painting were commissioned by Charles V, Holy Roman Emperor, on the occasion of Mary's marriage to his son, Philip II, King of Spain. As the painting was symbolic of the diplomatic alliance between England and Spain, it was necessary that it emphasize the new queen's strength of character, status, and authority. The Netherlandish painter Mor was the most successful portraitist of his day, and his detailed brushwork and rich coloration are inspired by Holbein.
In "Mary Tudor, Queen of England," the queen is shown seated in an almost full-length composition. Her red velvet chair, a symbol of royalty, is embroidered with gold thread. She sits commandingly erect and authoritatively stares at the viewer. In one hand she holds a red and white rose, a symbol of her Tudor heritage. This prominent attribute of royal Englishness is balanced by the jewel hanging from Mary's neck, which was gifted by her Spanish betrothed. Mary's other hand holds a glove, like her father in the Holbein portrait. Mary loved jewels and elaborate clothes, and her foliate patterned dress along with pearl and precious stone encrusted accessories reflects this attribute. Mor does not flatter Mary, painting a realistic depiction of her plain and sharp features.
The 'All Hearing and Seeing' Queen Elizabeth I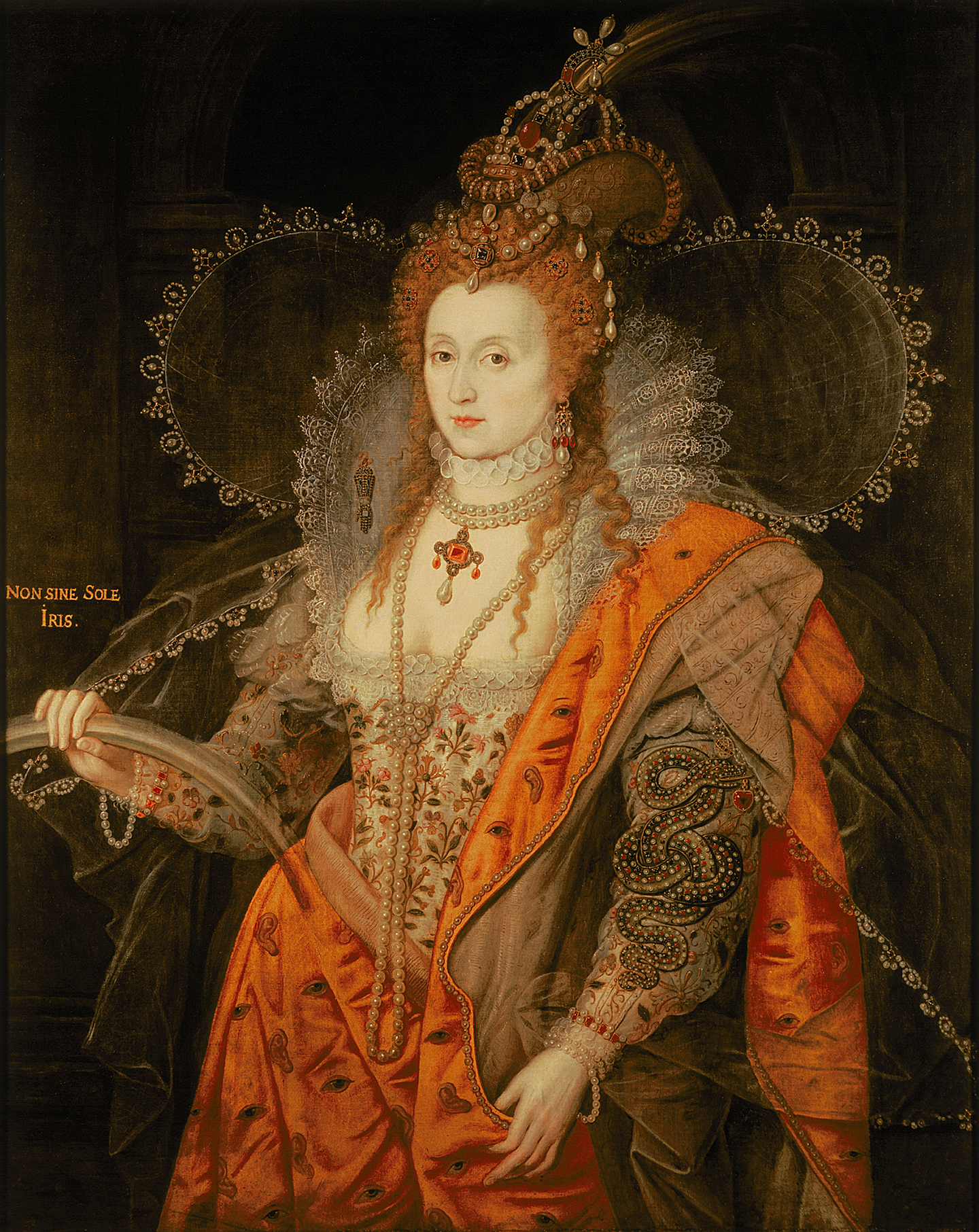 Mary died after only five years on the throne and was succeeded by her Protestant half-sister Queen Elizabeth I. Mary's widower courted Elizabeth, but she was determined to be a "Virgin Queen" who would never marry. Eventually, tensions between England and Spain reached a boiling point and Spain sent a fleet, the Spanish Armada, to overthrow Elizabeth and restore Catholicism in the country.
The Armada was soundly defeated by Elizabeth's Royal Navy, which is considered one of the great feats of her reign. Navy successes were occasionally commemorated in medals, and the defeat of the Armada was celebrated by the issue of a spectacular gold one, which is attributed to the great English miniaturist painter and goldsmith Nicholas Hilliard. The inclusion of this small-scale "Portrait Medal of Queen Elizabeth I with Allegory of Dangers Averted" in "The Tudors" exhibition conveys that royal portraits do not have to be large in size to express monarchical power.
One of the final paintings displayed in the exhibit is the captivatingly mysterious "Elizabeth I (The Rainbow Portrait)," attributed to the Flemish painter Marcus Gheeraerts the Younger, created a year before the queen's death. Portraits made during Elizabeth's reign rarely portray her as accurately aged. Instead, she was more often depicted, well into her advanced years, as an almost supernatural, ageless beauty, thus staving off questions of succession and fostering her ideal, virgin image. This type of portrait shaped Elizabeth's enduring image, and "The Rainbow Portrait" is a prime example.
"The Rainbow Portrait" is one of Elizabeth's most analyzed and debated images due to its complex iconography. The most eye-catching symbols appear on her orange mantle, which is adorned with eyes and ears. Scholars have formulated a range of theories about this bodily imagery, including speculating that it symbolizes the vast surveillance network the queen employed to ensure "she was all hearing and seeing." The painting may also reflect the Elizabethan court's cultural practices, which included royal visits with elaborate gift-giving and pageantry entertainment.
The portrait was commissioned perhaps by a prominent statesman to mark the queen's visit to his home. In the painting, the queen is dressed for a masque in a gown embroidered with flowers (including her favorite, pansies) and an elaborate headdress which derives from one worn by a "Persian Virgin" character in a contemporaneous costume book. During Elizabeth's royal visits to courtiers' homes, she often received lavish and symbolic gifts, including clothing, and some of these offerings have been tentatively linked to her attire in this portrait. In the painting, she holds a rainbow with a flattering Latin inscription that translates as "no rainbow without the sun." It has also been speculated that the painting's motifs draw inspiration from praiseworthy poems written about Elizabeth at the end of her reign.
"The Tudors: Art and Majesty in Renaissance England" is a compelling exhibit that explores themes such as political power and religion in government through art. Highlights of the exhibition, monarchical portraits created to further the "brand" of the ruler, are brought to life through compelling curatorial descriptions. By including a glorious array of art and objects alongside these portraits in the exhibit, an immersive experience is created that transports the viewer to the Tudor court.
The "The Tudors: Art and Majesty in Renaissance England" runs until May 14, 2023, at the Cleveland Museum of Art in Cleveland, Ohio and will be traveling next to the Legion of Honor, Fine Arts Museums of San Francisco from Jun 24, 2023 through Sep. 24, 2023. To find out more, visit https://www.clevelandart.org/exhibitions/tudors-art-and-majesty-renaissance-england.