Strawberry Salad With Asparagus
This Strawberry Asparagus Salad will instantly brighten your day…or at least your lunch hour. Hearty, healthy, and completely delicious.
Spring is in the air, and the air is ripe for spring salads.
Right now, I can think of no better salad for the season than this Strawberry Asparagus Farro Salad. Studded with crisp greens and crunchy sweet almonds. Drizzled with a tantalizing lemon honey vinaigrette.
If salads could sing, this one would be belting out a solo.
We nosh on fresh green asparagus all year round, but especially during spring. It's particularly lush and tender during these early warmer months.
Side note: Get thin asparagus over thick ones. The skinny ones are way more tender.
And let's talk farro. It's toothsome, chewy, and deliciously hearty. It's a superhero power food.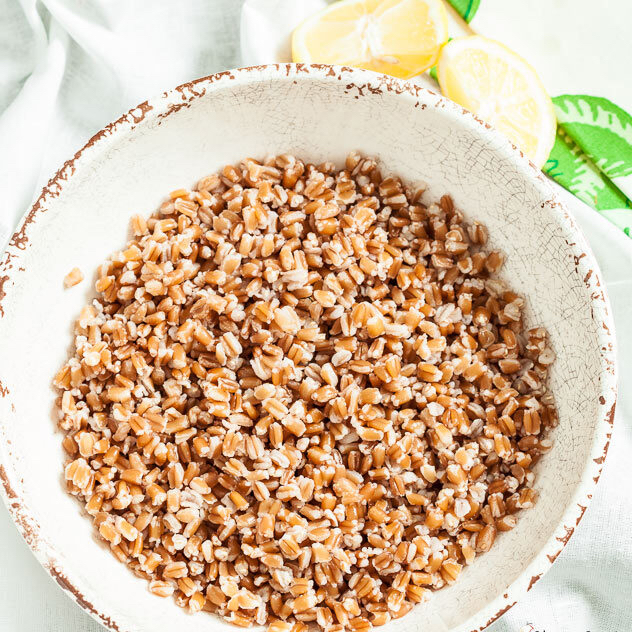 This lemon honey vinaigrette is one of my spring faves. It's bright, zesty, sweet, and tangy all at once. Perfect for pouring all over your favorite greens this time of year.
Forget the solo. How about an entire medley??
Toss together all that goodness…it's sweet, tangy, salty, and crunchy…everything you want in one single bowl.
Hint: You may want to make extra dressing for future use, because it's that yummy and it keeps well. Homemade salad dressing is a gazillion times better than anything store bought.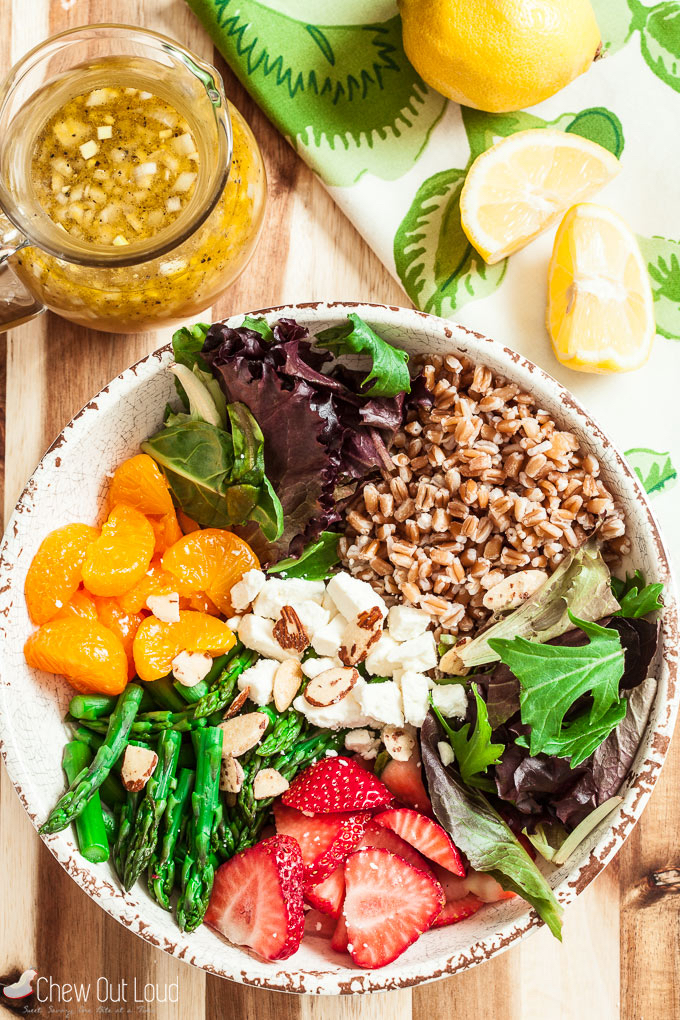 Here's to spring, singing, and salads. It's like music in your mouth.
Enjoy.
Strawberry Salad With Asparagus
Prep Time: 10 mins
Cook Time: 15 mins
Total Time: 25 mins
Servings: 4-6
Author: Amy Dong
Ingredients
For the Dressing
¼ cup apple cider vinegar
5 TB honey
3 TB extra virgin olive oil
1 TB freshly squeezed lemon juice
zest of 1 small lemon
¼ tsp kosher salt
¼ tsp freshly ground black pepper
2 tsp Dijon mustard, coarse ground with visible seeds
1 large garlic clove, minced
1 shallot, minced
For the Salad
½ cup dry Farro, presoaked in water overnight
20 thin spears fresh asparagus, edges trimmed
1 cup baby spring greens
16 oz pkg fresh strawberries, sliced
11 oz can mandarin oranges, drained
½ cup crumbled feta cheese
½ cup toasted sugared/sliced almonds
Instructions
Make the dressing ahead of time: combine all ingredients in a bowl and whisk well to combine. Transfer to an airtight dressing jar and keep chilled until ready to use.
Cook presoaked farro according to package instructions, 10-15 minutes or just until tender. Drain well and let cool (or rinse with cold water for quicker cooling.)
Blanch asparagus in salted/boiling water just until color changes to a bright green, 30-60 seconds, depending on thickness of your asparagus. Drain, cool, and cut into 2-inch pieces.
In a large bowl, toss together cooled farro, cooled asparagus, and baby spring greens. Drizzle desired amount of dressing over mixture and toss gently to combine well.
Gently add in the strawberries, mandarin oranges, and crumbled feta. Add more dressing if desired and toss. Top with toasted almonds and serve immediately.
Notes
Get thin asparagus over thick ones. The skinny ones are way more tender which means an even more delicious salad.
Make this recipe dairy free by removing the feta cheese.